"You are going to pack towel.
Aren't you
?"
>>birds chirp<<
Sure, Mark. I'll pack a towel. Maybe I'll pack two. For kicks and giggles ... or probably because I'll need it.
When I go to a race, I take a minimalist approach. I don't gear check a bag or bring my phone. I'm fine sitting in the same sweaty clothes while I "refuel" (aka stuff my face). Basically, if it doesn't fit in my SpiBelt, I don't bring it.
The Dirty Girl Mud Run in Indianapolis on Saturday will be different, though. Very different. And, as such, the packing list will be, too.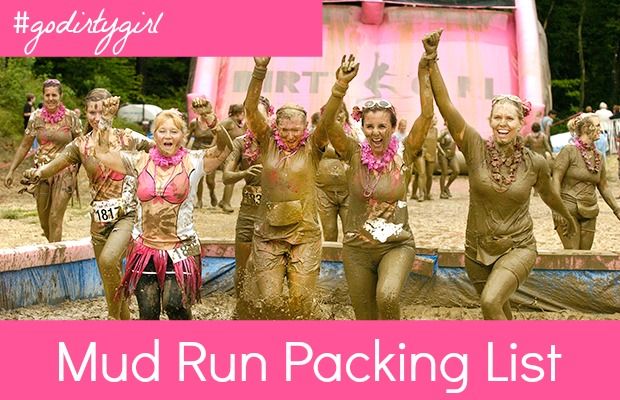 Race entry confirmation/bib/ticket
. For the Dirty Girl Mud Run, we have an EventBrite ticket. Runners can show an email confirmation or print out the ticket. I hate using data on my phone so I'll be bringing a hard copy, along with a parking pass for the event location.
Towels - plural
. Think beach towels for the car seat and trunk. Pack another for yourself, too.
Baby wipes
. A towel will help you get off most of the grime but I'm fully expecting to get mud in some nooks and crannies of this post-pregnancy body. Baby wipes will also come in handy dare a muddy fingerprint get on the steering wheel.
Plastic grocery bags
. Some websites/blogs suggest plastic zip bags but the grocery bags will tie at the top and are big enough to accommodate shoes. Bring at least three - one for shoes, another for clothes and the last for the dirty baby wipes.
Extra clothes
. Underwear, bra, pants, shirt and a sweat shirt are a must. The temperature is forecast to be in the 50s, so I know it will be best to have extra layers to warm up after the run.
Clean shoes
. This one is obvious. Or it should be.
Compression gear
. The race is a 5K but there's no knowing how my body will react to the obstacles. I will be bringing a pair of
Pro Compression
marathon socks
to wear after the race and on the way home to make sure I have fresh legs on Sunday.
Hat
. Whether I get to rinse off my hair and get to deal with my poufy pixie or I have mud-caked locks, I'll be rocking a
Nuun trucker hat
. Keepin' it classy.
Friends
. The best part of events such as obstacle and paint-bomb runs are doing it with a group. I'm kidnapping
Kim from Girl Evolving
, and we'll tackle the challenge.
Note: We also may leisurely meander the course as neither of us will have children in tow!
Other things to consider: Cash, ID, snacks and a good attitude!
Disclosure: I am an ambassador for the Dirty Girl Mud Run Indianapolis, and I was provided an entry to the event free of charge in exchange for a blog post (in March) and a race review. As always, opinions are honest and written by me.