I almost didn't go.
As I slumped on the couch Tuesday night, worn from my second go-around with a stomach bug, I couldn't see how I would get on a plane in less than 12 hours, fly across the country and run up and down mountains. All I could think about was my disastrous race at the Indy Mini and the 10 days of GI distress that followed, the days of not running and barely eating and wondering whether I'd ever be normal again. I worried that I would be stepping onto a plane only to spend my time in the Cascades at Ragnar Trail with Team Nuun throwing up.
But I couldn't not go either, whining to Mark as I sipped a bottle of Lemon-Lime. I had made a commitment – to Nuun, to my teammates and financially for the airfare. I had been looking forward to this trip for months, and it would offer a much needed break from the grind and the opportunity to gain some perspective about where I'm at right now. And so I told him, and myself, that I was sick from stress, lack of sleep and anxiety about the trip (aka leaving the boys for five days). Everything would be OK once I got on the plane, I said trying to assure myself. Mark nodded, and we went to bed.
Not everything was OK, though – not even close. I had a scare on my flight from Chicago to Seattle, passing out and vomiting, and I spent much of Wednesday sleeping or wandering lethargically around the Emerald City.
However, what started quite disastrously ended epically, and I am so grateful that my stubbornness prevailed and I made the trip. It was made of puppies, rainbows and unicorns. OK. It was more like dust, gummy bears and nickels but I couldn't have asked for anything more.
It would be impossible to sum up my experience adequately here so I'm not even going to try. Rather, I'm going to share my top eight moments on the trail.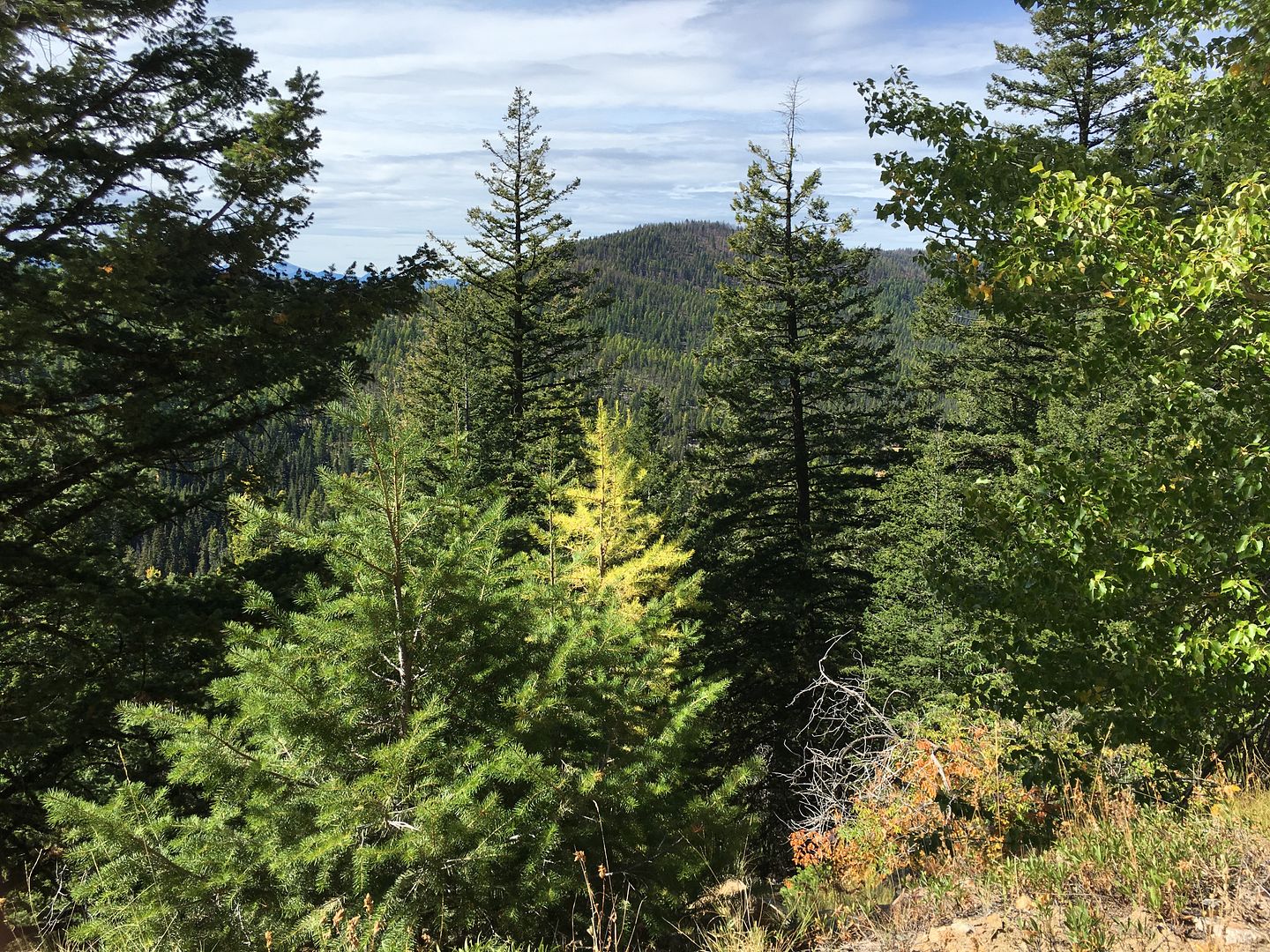 Meeting the challenge. I don't run hills, like, ever. It's not because I despise them (though I do) or avoid them; it's because I don't have access to intense climbs in northeast Indiana. I knew going into this race that the climbing and elevation gain would be the most difficult part for me. And it was. My quads burned, my calves ached, my breathing labored. I had to swallow my pride and hike. And hike and hike and hike. I ran when I could and knew when to grit it out. And I did it. I made it to the top and opened up as I made my way down.
That was in-tents. So ... the last time I slept in a tent was in 2004. My uncle and his family were camping on Kelleys Island (in Lake Erie, Ohio) and I took the ferry over from Marblehead (near Sandusky where I lived) to hang out. Well, we had too much fun at a winery and I was too drunk to get on the boat much less drive. So I stayed on the island. Since, I've joked that my idea of camping was the Holiday Inn. Well, I was wrong. Ragnar Trail is now my idea of camping. I loved, loved, loved the community aspect of it, being all huddled together in a tent and sleeping in the outdoors. I loved the fire and the s'mores and being among the trees as I sipped my coffee.
Of course, there was a learning curve. Like I couldn't figure out how to get out of my sleeping bag in the middle of the night so I could go to the bathroom. I ended up unzipping the tent, inchworming out and then hopping out of the sleeping bag. It was quite graceful.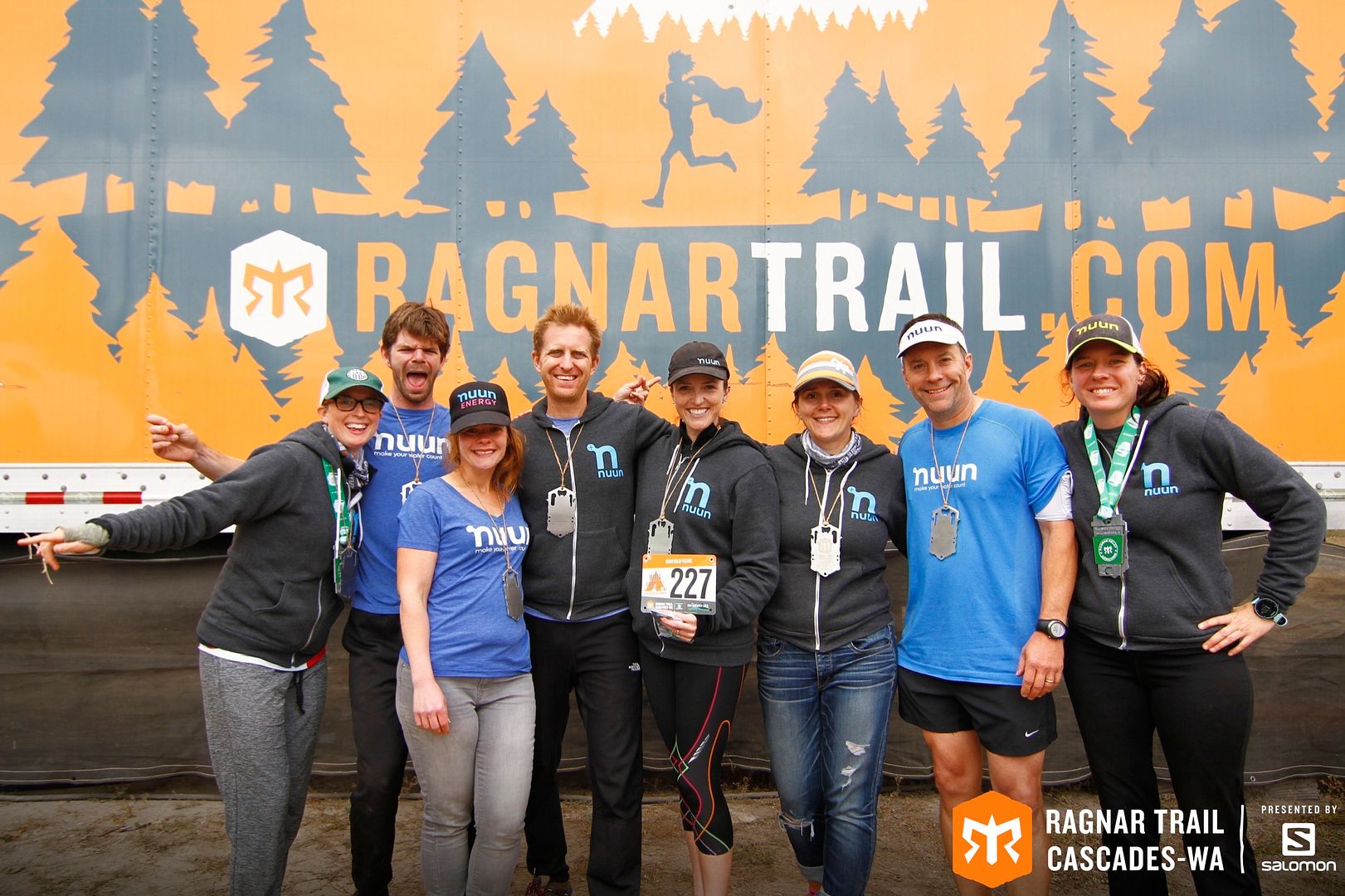 Team spirit. When I told people in my everyday life about my trip to the Pacific Northwest, many would ask about whether I knew anyone who would be running. And I did. I knew some of the employees from Nuun and a fellow blogger, Karen, from when I did Hood to Coast. However, most of the faces would be new. It's a bit panic-inducing, to be sure, as I can be a bit shy and awkward and then even more awkward once I get comfortable. (So much dancing ...) But here's the thing about Nuun and its ambassadors: They are all welcoming, inclusive people. Am I BFFs with everyone? No. But did I meet some of the most dedicated, inspiring, funny people on the trails? Hell yes. I left Seattle a bit sad but better off for having met and ran with them, and I know that I created legitimate friendships and connections at 4,000 feet. You just don't get that when you do a road race – or even a trail one – as an individual.
If I had a nickel ... I was hot, tired and ready to be done – and I still had a mile or so of downhill to navigate on the Yellow Loop (my first leg). To make matters worse, I could feel something bouncing around in my right shoe. I really could have left well enough alone and ran it in but the lazy bastard on my left shoulder go the best of me. So I sat down, untied my laces and shook my Hoka One Ones. But a rock did not fall into my hand like I had anticipated. Rather, it was a nickel. A MOTHER EFFING NICKEL. You know, in case I found a vintage soda machine at the top of the mountain and needed to quench my Diet Pepsi craving.
"If I'm gonna die from a bow straight up Katniss Everdeen-style, I'm going to be pissed as hell." As we made the trek from Seattle to Loup Loup Ski Bowl, where the race was held, I got an email from the Ragnar race organizers alerting runners that it was bow-hunting season. And as the area where we were running was public, folks could be out there shooting arrows. Hopefully at animals but it could be us. It was unsettling but a bit humorous as well, and it made me super glad that I left my Bullwinkle costume at home.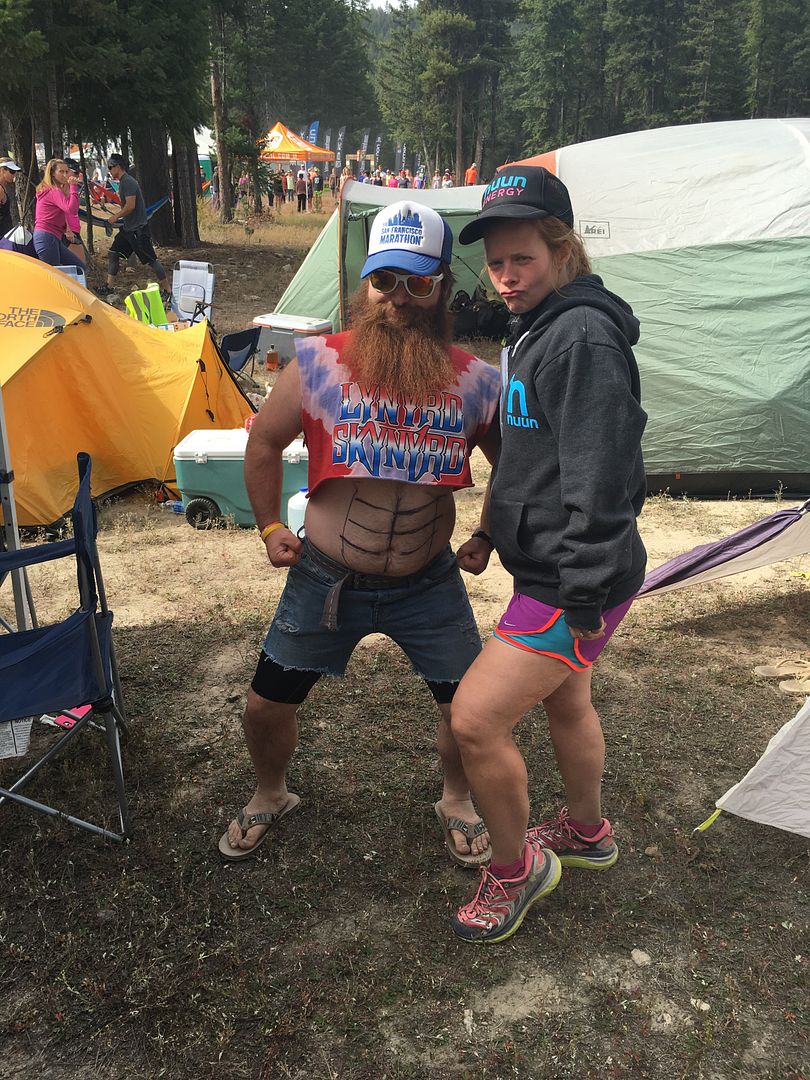 Speaking of costumes. You can't not go to a Ragnar or relay without catching sight of some characters and characters there were. I was particularly enamored with the latest member of Led Zeppelin, who ran in jorts, and a guy who seemed to be a Medieval Greek jester who liked to make up rhymes as he directed runners to their respective loops.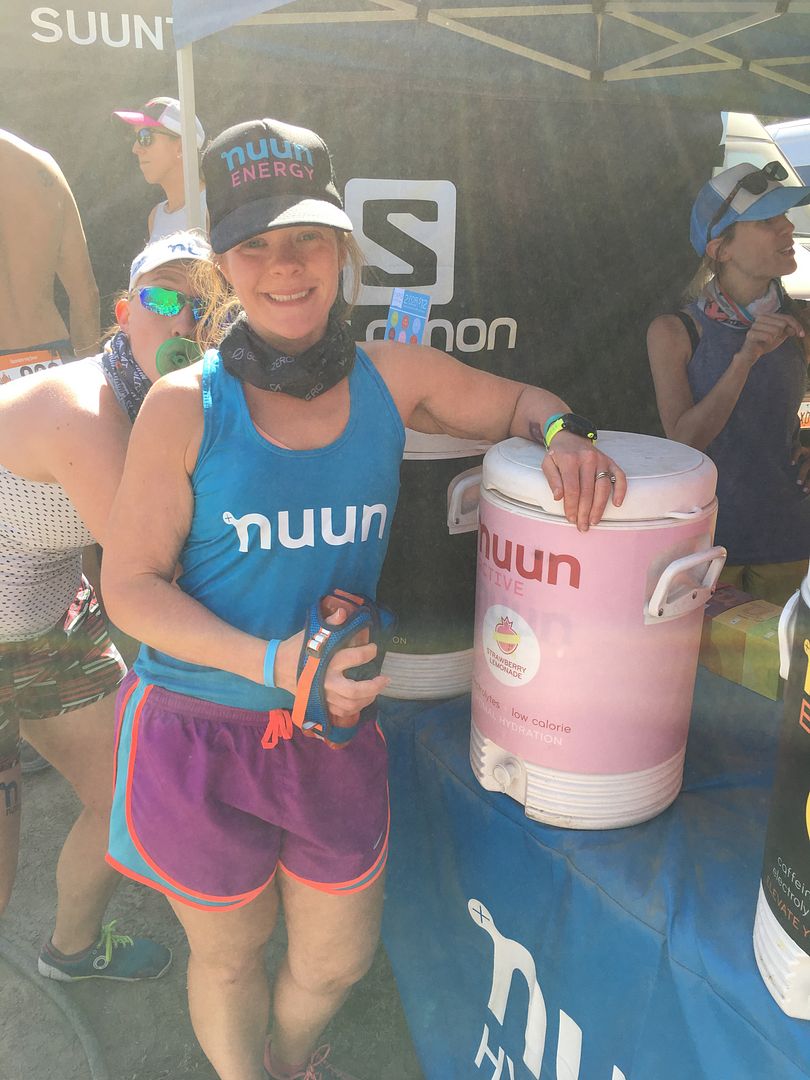 All the Nuun. You knew I was going to do this one, right? I mean, I had to. From the tubes and tubes of Nuun at our camp to the multi-gallon containers at the tent in the village, Nuun was everywhere. And, for me, Nuun at a race is a novel thing. It was great to have my favorite way to stay hydrated wherever I turned.
Chasing the sunrise. I started the Red Loop, the last of my three legs, just after 5 a.m. The sky was dark, the stars hidden behind clouds. My Petzl headlamp illuminated the trail ahead of me, helping me to navigate the 3+ mile climb. But as I made my way up the single track to the summit, the sky began to turn blue and the evergreen trees began to distinguish themselves from the mountains on the horizon. It was gorgeous. While I had hoped to see some amazing color, it was hard to be disappointed.
As I made my way down the single track, the morning haze growing brighter, I turned off my head lamp and let myself open up. Open up to the speed that the downhill offered. Open up to the people around me. Open up to the world, the possibilities.
Disclosure: I ran Ragnar Trail Cascades as a part of my ambassadorship with Nuun. I paid for my own airfare to Seattle though other expenses were covered. I was not obligated to write this post in exchange for this trip.