"I don't have time for this," I thought to myself. "I should have never said yes to this."
"This" was the opportunity to try
Green Blender
. Green Blender is a delivery service that takes the now-familiar concept of meal delivery services in a different direction – smoothies.
Each
Green Blender
delivery includes the ingredients to make five different smoothies, and each smoothie recipe makes two servings. The delivery arrives in an almost non-descript box but inside is a space-age looking silver lining that, along with freeze packs, keeps the goods at the proper temperature. The ingredients are pre-portioned and require no prep save for peeling the occasional banana, trimming off the ends of a cucumber or rinsing off the produce.
But that morning, as I rushed to get Miles ready for school and Si calmed down, the task of grabbing the blender and the foil package out of the fridge seemed like too much. However, I had agreed to it and after falling short on some agreements last year, I had committed myself to being a better blogger and partner this year. So I put Si in the highchair and gave Miles the OK to watch 5 more minutes of TV.
And, honestly, I didn't need 5 minutes. It was more like 7 to 10 that first day but, hey, I spend longer than that in the Starbucks drive-through.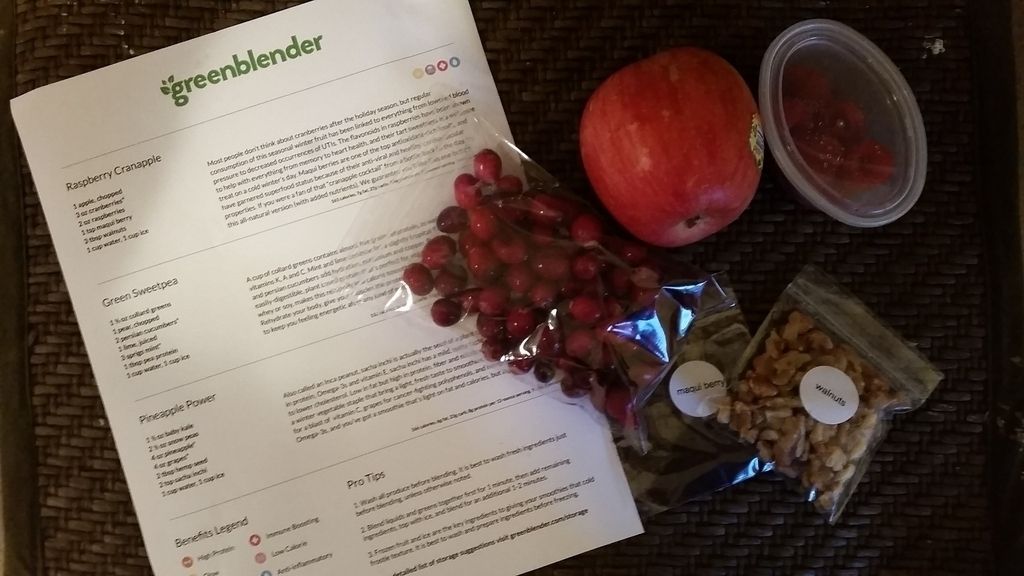 I scanned the recipes on the sheet enclosed in the shipment and decided on the Raspberry Cranapple smoothie. For me, it seemed like the most benign in the bunch with an apple, cranberries, raspberries, walnuts and macia powder. I put the fruit in the blender along with a cup of water and let it whir as I put a snack in Miles' backpack. I grabbed a cup of ice and tossed it in with the walnuts and macai powder, setting the blender on the "crush ice" setting and grabbed Si from the chair. I held him as we watched the drink come together. I had my lazy hipster pants on that day so I poured half in a Ball jar and stuck in a provided straw and put the blender carafe with the other half in the fridge. I corralled Miles, got Si in the car seat and we were on our way to school. On time, I might add.
I sipped the drink trepidatiously as I drove and was pleasantly surprised by the tart-sour flavor. It was good but I made a note that it would be better with a bit of vanilla yogurt or some stevia. The Green Blender smoothies, if anything, are not the frozen desert-like concoctions that populate menus of places I'm most likely to frequent.
But that doesn't mean that the drinks aren't good. In fact, they are pretty darn good – even to this gal, who had sworn off green smoothies ages ago and has (what I call) a Midwest sensibility to healthy eating.
Funny enough, my favorite was probably the most unique-to-me recipe: the Green Sweetpea Smoothie. The drink features collard greens, pear, persian cucumbers, lime, mint and pea protein. The predominant flavors were lime and mint, and it tasted ridiculously refreshing. The Pineapple Power smoothie, with snow peas, kale, pineapple, hemp seed and sacha inchi, was among the top flavors I tried. It was sweet but not overly so and I couldn't taste the baby kale or snow peas.
A thing to note: I received the delivery on a Thursday, tried my first smoothie the following Tuesday and made the recipes throughout that week. Even on Friday, when it had been over a week since shipment, the ingredients were fresh and the greens not wilted.
But, my favorite thing about Green Blender was not the flavors themselves but that the service opened them up to me. I would not have drank a smoothie with greens and cucumbers a month ago. I would have gagged looking a recipe with snow peas and kale. I would have laughed in your face if you offered me a sip of a drink with carrots in it. In an effort to be honest and forthright, I put my fears and preconceived notions aside and I gave it a fair chance and because I liked those, I know there's a good chance I'll like others, too.
I was sipping my last smoothie one night in the kitchen as Mark put away dishes. He had asked about what I thought of the service, and I told him that it's definitely something that I liked.
"How much is it?" he asked. "Do you want to try to work it into the budget?"
And there is my gripe. The cost. It's about $50 per box unless you sign up for regular delivery, for which there are discounted rates. When you budget $120 a week for groceries, adding $50 for smoothies seems sort of ludicrous. It does.
But it doesn't mean that it's a bad deal. The smoothies average out to $5 a drink and considering I have paid $8 at the juice shop a block from work, it's a good deal. It's an even better deal considering the drinks I made in my totally non-fancy blender were 10 times better than those I've gotten at that shop. It was just as convenient, if not more so, than going to the shop, as well.
For me, I told Mark, it's not something I want on the regular but I do want it. I think it would be a great thing to try on a monthly or seasonal basis to shake up your breakfast/snack routine and get some damn vegetables in the mix. Seriously – I felt so good knowing that I was putting good greens into my body before I stepped into the Y each morning to teach class. If there's something I really like, I have the recipe – thanks Green Blender – and can make it on my own!
Now, totally obvs, you want to try it – and you should. And you can do it with 20 percent off using code HEALTHYSTRIDES at checkout. Please note that I do get a small kickback by you signing up. Kickbacks are nice but it has not affected how I approached this review.
Disclosure: I received a Green Blender delivery in exchange for a review but was not otherwise compensated.