I have always wanted to run a Mother's Day Race. Well, at least for my past three years as a mother runner. I even went as far as to solicit a prominent Fort Wayne race director to start a race - just for me.
Reality check: I am not that cool. But, I did get my wish. Sort of.
Look! I'm in the lead. Pro Compression star socks for the win!
Three Rivers Running Company (
my
running store) teamed up with the Vera Bradley Foundation for Breast Cancer and the Lutheran Health Network to present the Pink Ribbon Run. Saturday's first-year event featured a 4-mile run and a 2-mile walk around the Lutheran Hospital campus. The race raised money for breast cancer research, a cause close to my heart, and last I heard the total passed $1,000. It was a good reason to run even if it was the day before Mother's Day!
Race details
Cost
: $25 race registration
Start time
: 9 a.m.
Course
: The 4-miler had two out and backs plus a weird little zig-zag. There were some wee hills but nothing crazy.
Results
: Chip start/finish of 34:25. Third in AG, 51st overall (my running friend beat me for top 50 by 0.02 second)
Swag
: T-shirt, water bottle and a sweet Vera Bradley reusable tote. AG prizes, which were two deep (of course, since I was third), were a VB lunch tote for second and a pink VB bag for first.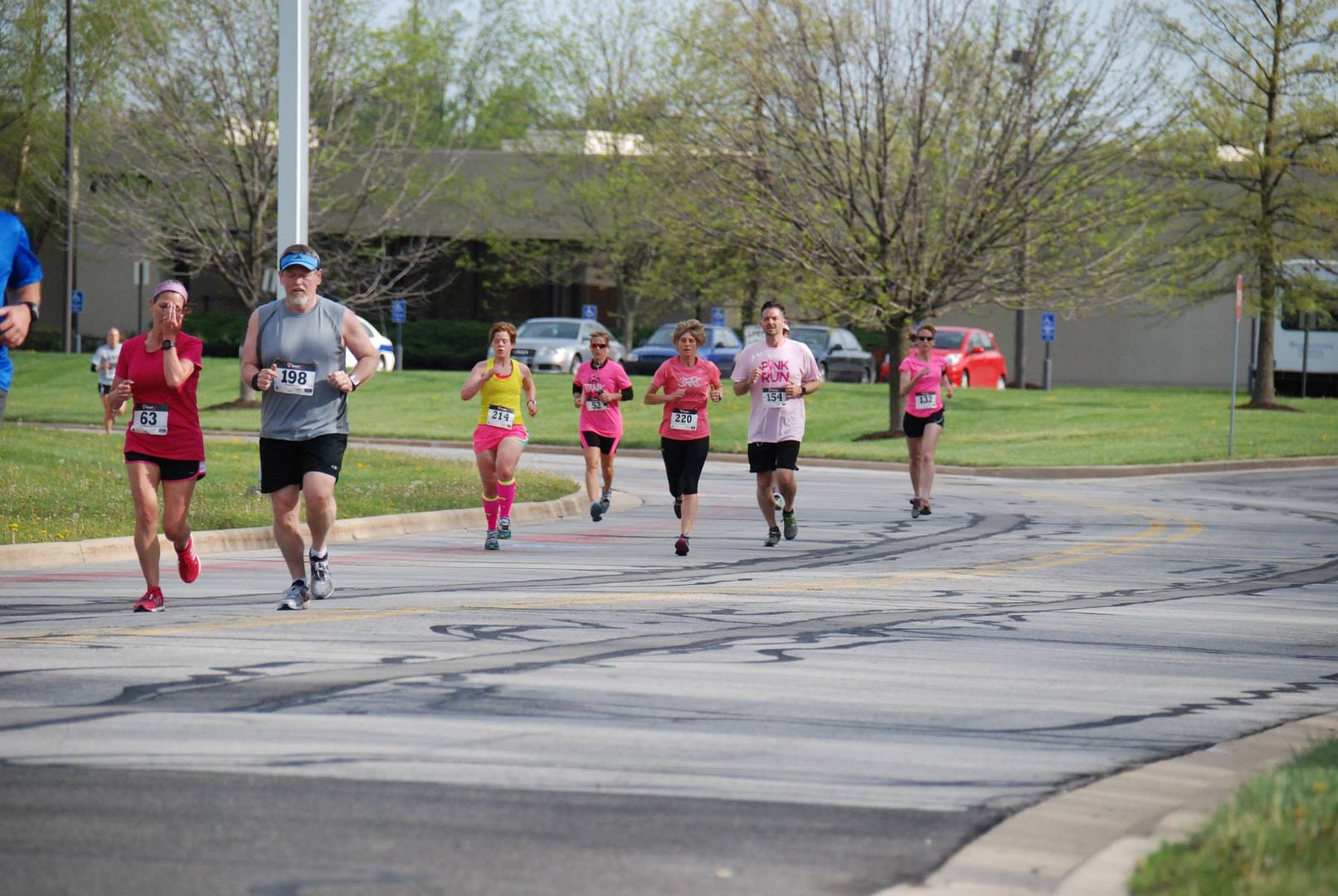 Race goals
C: Get it done, plus a 2-mile warmup and 2-mile cool down for 8 miles total
B: Finish in 34 minutes, an 8:30 pace
A: Best 4-mile PR of 32: 31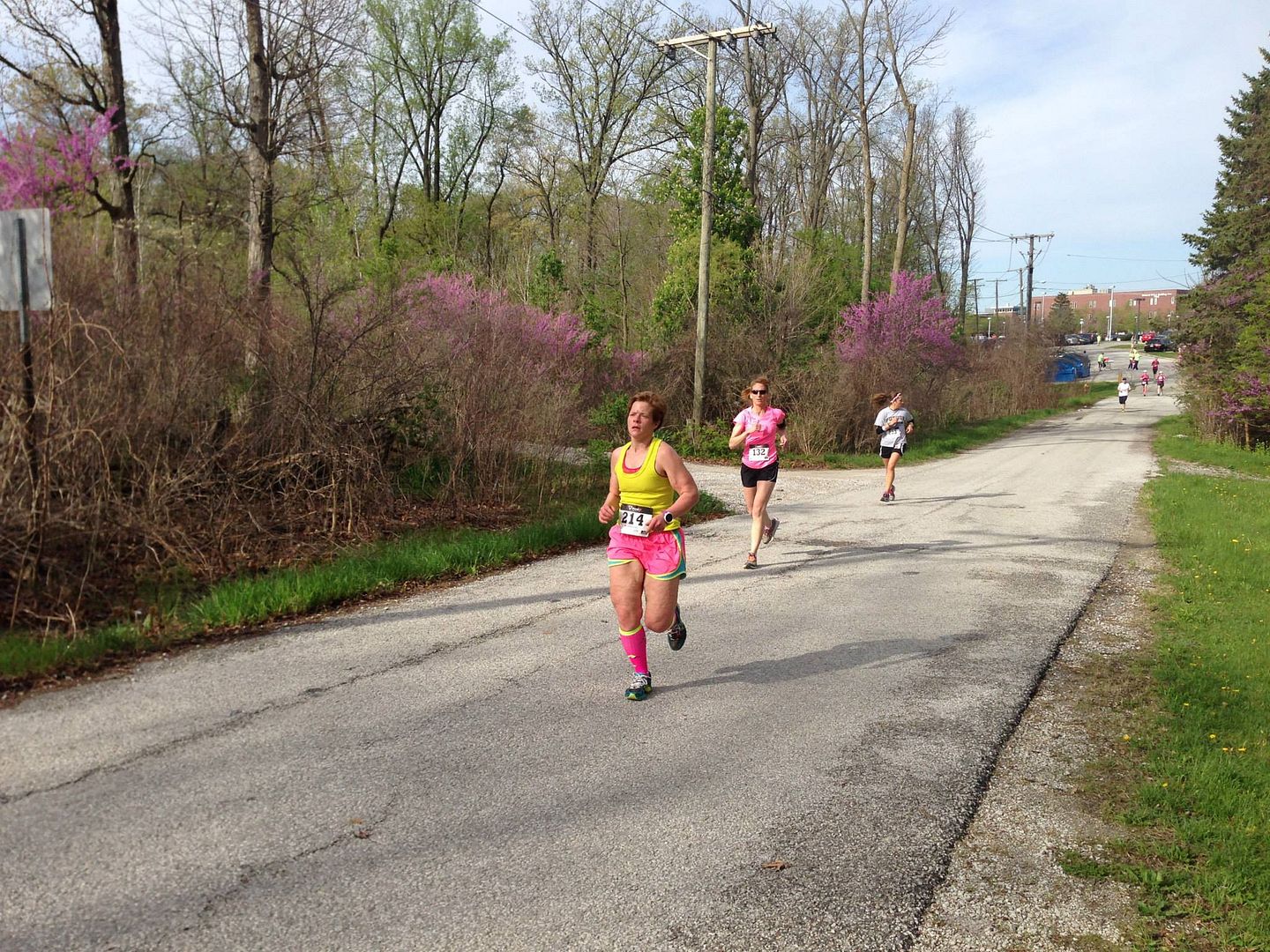 Well, if you read the race details then you know I didn't make my "A" or "B" goals for the race. And that's OK. I feel good about the race.
Four thoughts for 4 miles
1. I ran the race entirely on effort. I had my Garmin on but switched the display to just show the time. I wanted to run hard and not be tempted to slow down or speed up based on what I saw. I also wanted to stop the self defeat that I allow to creep in when I am not hitting the numbers I want. And it worked. I ran two strong first miles (8:05 and 8:06), which fulfilled the week's tempo run. I really slowed the third mile, as I stopped for water and a brief moment to walk because I thought I might puke. It was 9:17. If I had been looking at my watch, I would have been tempted to throw in the towel but I rallied in the fourth mile. 8:17.
2. I came into this race with very tired legs. I had ran three times that week and led two boot camp classes, as well as my Ripped class at the YMCA. My legs spent the better part of Wednesday through Friday in a state of pronounced soreness. I did a light session on the elliptical on Friday to get the legs moving and help them along. It worked but I still felt heavy once we started racing.
3. I finished feeling like I was going to vomit. I have no doubt that I ran the hardest race I could on that day.
4. I ran the warm up and cool down, so I made my C goal and got in a long run for ZOOMA Napa Valley.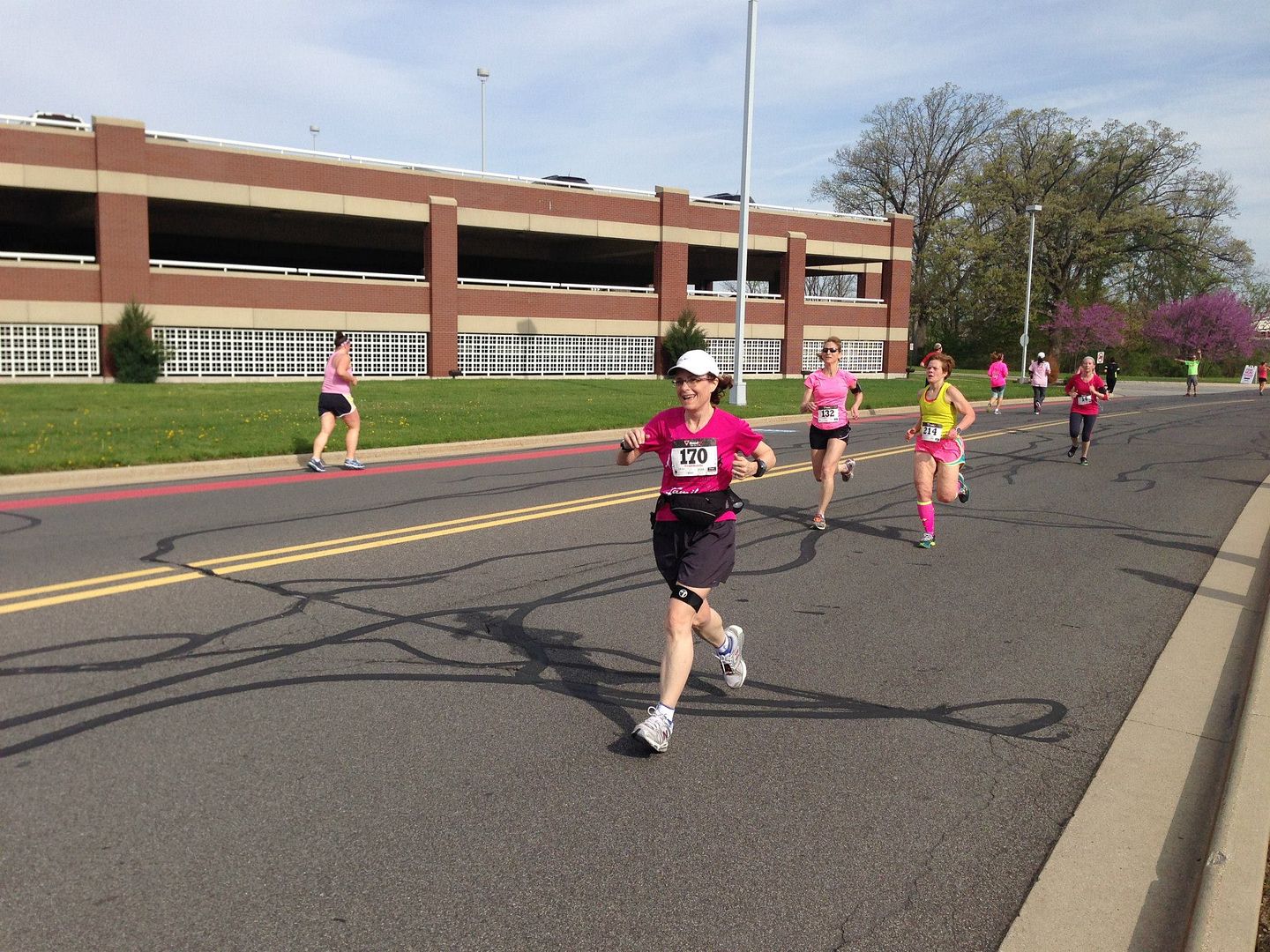 Post script
♦
Big thanks to those who took photos for the Fort Wayne Track Club and Three Rivers Running Company. Even if you didn't make me look good.
♦
By the way ... why are race photos such a sucker punch to the self esteem? I will not say more because no one needs to hear me bash myself.
♦
Earth Fare was one of the sponsors and had a massive table of bananas, water and other post-race goodies. They just opened up a store in Fort Wayne, and my excitement is beyond epic. I might have shamelessly pulled the blog card.
♦
I really hope they do this race again. I love the cause, like the course and think it's nice to have a race on Mother's Day weekend.