It's almost here.
After months and months of planning, far too many hours of mapping on Google and weeks of hoarding snacks, my family and I are set to head off for vacation soon. We'll be roadtripping from Indiana to Florida, making pit stops in Cincinnati and Atlanta, in the hopes of seeing as many family members as possible, seeing some new sights and avoiding tantrums at every turn.
However, in the past few weeks, I've been wondering if I needed to worry less about Miles and Silas throwing tantrums and focus more on me.
1. One of my favorite things to do when visiting larger cities is to check out group fitness classes/boutique studios that aren't in my neck of the woods. I tried to find a couple hip places near where we'll be staying in the
Tampa
area but it seems most of them are a good half-hour away. I thought all was lost until I spoke with a rep from
OrangeTheory
Palm
Harbor
. To my delight, an OT studio was opening in Trinity, just 15 minutes from where we'll be, in time for the trip.
I went to the website and scoped out the schedule, and my streak of luck continued when I saw that there were classes. Perfect! I could get in a rocking workout and be back before the kids were up. I immediately texted the studio to get a reservation.
Yes, you read that correctly. I texted.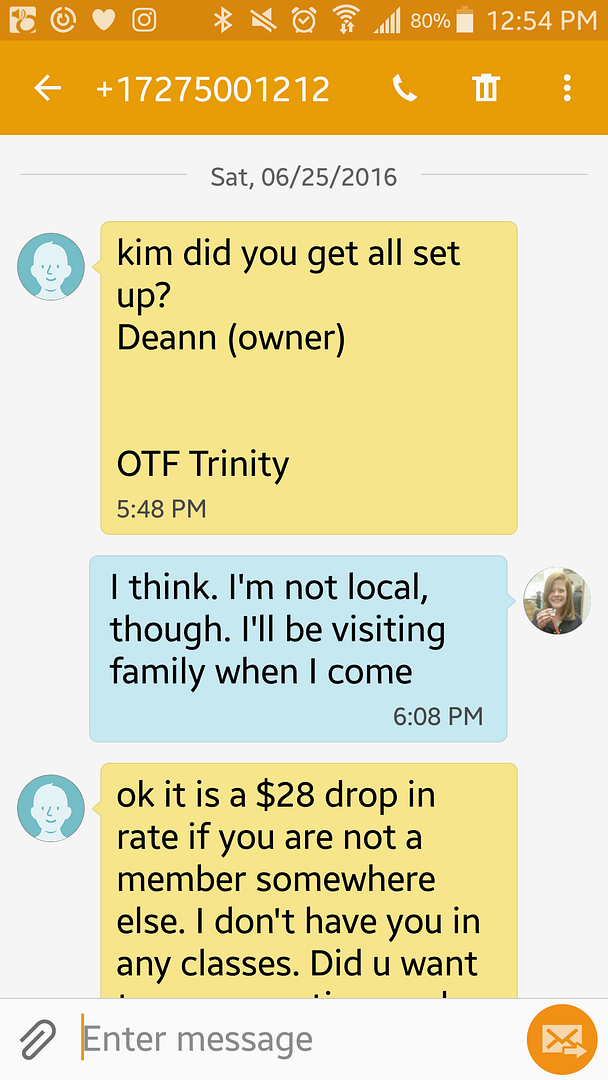 Over the course of nearly four days, I sent more messages than I care to count trying to secure a spot in the Thursday class. And you know what? I still don't have a reservation. I'm fairly certain there's an opening but I felt like once they heard I wasn't local and they weren't going to sell me a membership, they didn't care. I was sent a message that it was a $28 drop-in fee and I had no reservation. Like, they just assumed I couldn't afford it.
News, OrangeTheory: I could. I'm just going to choose not to this time. I don't have another four days to have a text conversation to reserve a spot.
2. Thankfully, there is a YMCA location nearby and it will give our family 14 visits (not that we'll need all of them). Again, though, I got excited only to be let down. The Y has a BodyPump license, and I was drooling at the thought of throwing some plates on a bar and squatting for 5 minutes. The hang-up? Morning classes are at and evening are at Though they do have a limited schedule early in the morning, nothing matches up with when we'll be there. And I'm not skipping the beach (and kayaking in the Gulf) to do hang cleans – no matter how much I love them.
3. Before you yell at me for being a whiny brat, all is not lost. I will be close to
Jay
B.
Starkey
Wilderness
Park
, which has a 6.7-mile paved trail. It opens at so I should be able to get out while everyone eats breakfast. The pictures look absolutely beautiful, and I can't imagine a better place to kick off marathon training!