A very enthusiastic mall walker.
At best, that's what I look like. At worst? I would describe my movements as those belonging to a deranged extra in a new production of "Snow White and the Seven Dwarves."
1. I recently discovered a new feature on my FitBit app. Underneath the miles for the day and above my active minutes, is a unisex person in tree pose with "X of 9 hours with 250+." The idea is to motivate me to walk at least 250 steps an hour from 9 a.m. to 5 p.m. It doesn't matter if I run 6 miles at 5 a.m. or teach back-to-back classes beginning at 5:15 p.m. It matters whether I get my ass off my chair and walk around the office.
And let me tell you, it's easier said than done.
I have a desk job. I sit at a computer, talk on the phone and type on a keyboard. The people with whom I interact most are within 15 feet. Especially now that I'm done pumping (!!!!!!!!!), I have very few reasons to get up and move outside of using the bathroom and getting a diet soda from the cafeteria.
So it's no surprise that last week I did not once make the goal of 250 steps each hour for 9 hours. the best I did was 8 out of 9 (twice) and the worst was 3 out of 9. Seriously, how sad is that?
Now that I see the goal on my app, though, I'm making an effort to get off my rump. I've determined that 250 steps is a walk down the steps, a stop at the cafeteria for water, then up the stairs and back to my desk. I try to go three-quarters past the hour. If I forget, I sometimes walk in place at my desk. Hence, the mall walker reference.
2. More photos from
Saturday's race
were posted on the Facebook page for the Fort Wayne Running Club.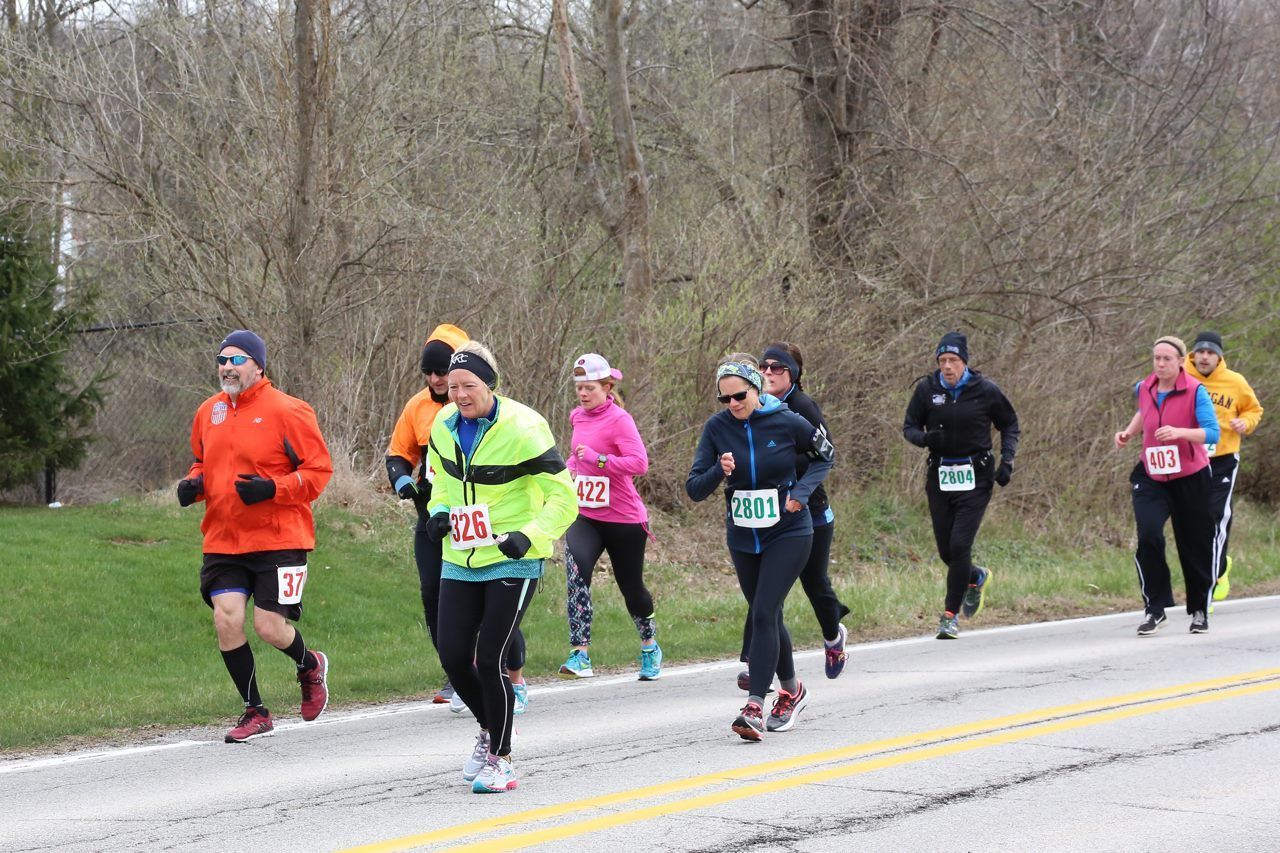 This photo is about a mile, mile and a half into the race. I am in the backward trucker hat in the pink shirt. It was windy but nice enough as I debated the merits of passing one of the gals who usually beats me at most races.
This photo is between mile 3 and 4. No longer able to keep my Nuun hat on, I took it off and held it – which basically pulled out my side braid-pony combo. Is it not crazy the difference 15 minutes makes?
3. One of the highlights of my week has been gaining access to the private locker room at the downtown YMCA. The facilities are available to members at an additional cost but, as an employee, I get them for free. There's a lounge area with cable TV, hair dryers, flat irons, curling irons, a sauna and hot tub. There's free towels, too, and locker rental available.
This morning, after hitting up the treadmill again (OMG, I am really starting to hate you April showers/torrential rain/ridiculous wind), I was glad that I was in the space alone because, seriously, I looked like a hot mess.
No pretty selfie, here! My hair was half out of the elastic, my head band was barely on and my face was red. And good thing there's not smell-o-reading!
I took a shower, dried my hair and listened to a Vox from my friend like I was at home – except I had more room and no one tore back the curtain asking for dessert or wanting to be held.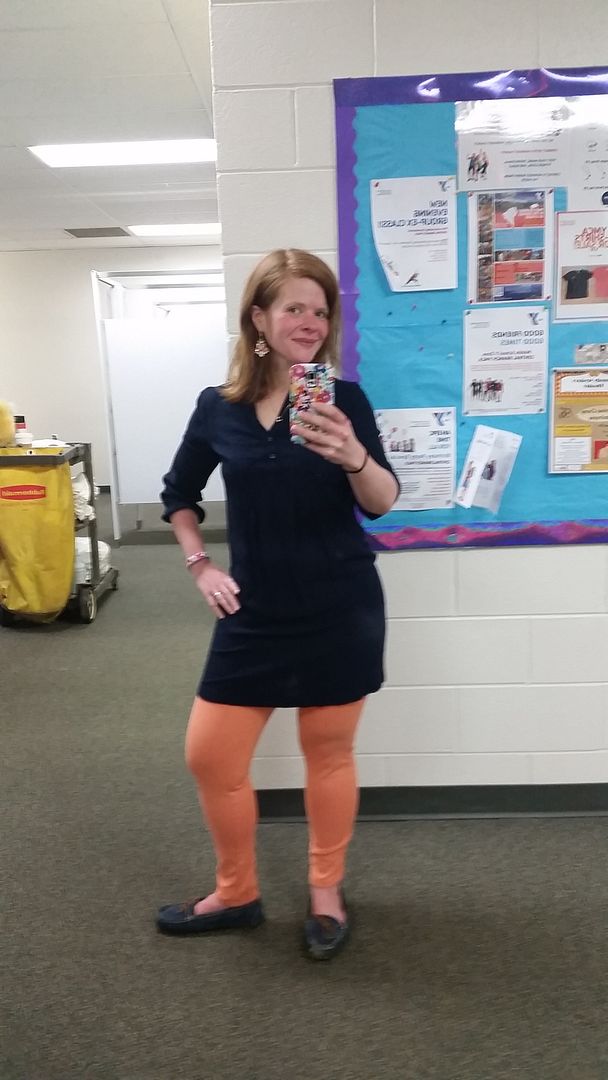 I really don't like to rely too much on the treadmill but I could get used to this!
Bonus: I plan to hit up the whirlpool next week before Carmel to help relax the muscles.