"Pay it forward."
Among my goals for 2016
, I listed that I wanted to be more thoughtful and generous this year. I had ambitions of buying meal supplies for a needy family and starting a "pay it forward" chain at Starbucks.
But it hasn't quite worked out that way. Sure, I have done some things. I put together a comfy care package to give away on the page of a local Facebook group and I have responded to a needs request for workout equipment on the same site.
However, I've realized that sometimes it's those around us who can benefit from a small gesture of kindness. A $5 gift card to the coffee shop emailed to a friend on a bad day. An unexpected (or very belated) gift mailed out to a gal pal. A manager's special bouquet of flowers to a co-worker who has been stressed. A care package of goodies to a family member who isn't feeling well or who has had surgery. Through Mark's church, there's sometimes the opportunity to cook meals for members who have had babies or are undergoing medical treatment.
The small things can mean so much to those we love the most especially during the times when they feel the most overlooked.
What I've become most known for (in a very small circle), though, is depositing food items in my mother-in-law's freezer. Just because. I might make a batch of soup, knowing that it's her favorite and give her a couple of bowls. Or, I might make cookies with Miles so that he can take them for dessert on Thursday nights when he goes over for dinner.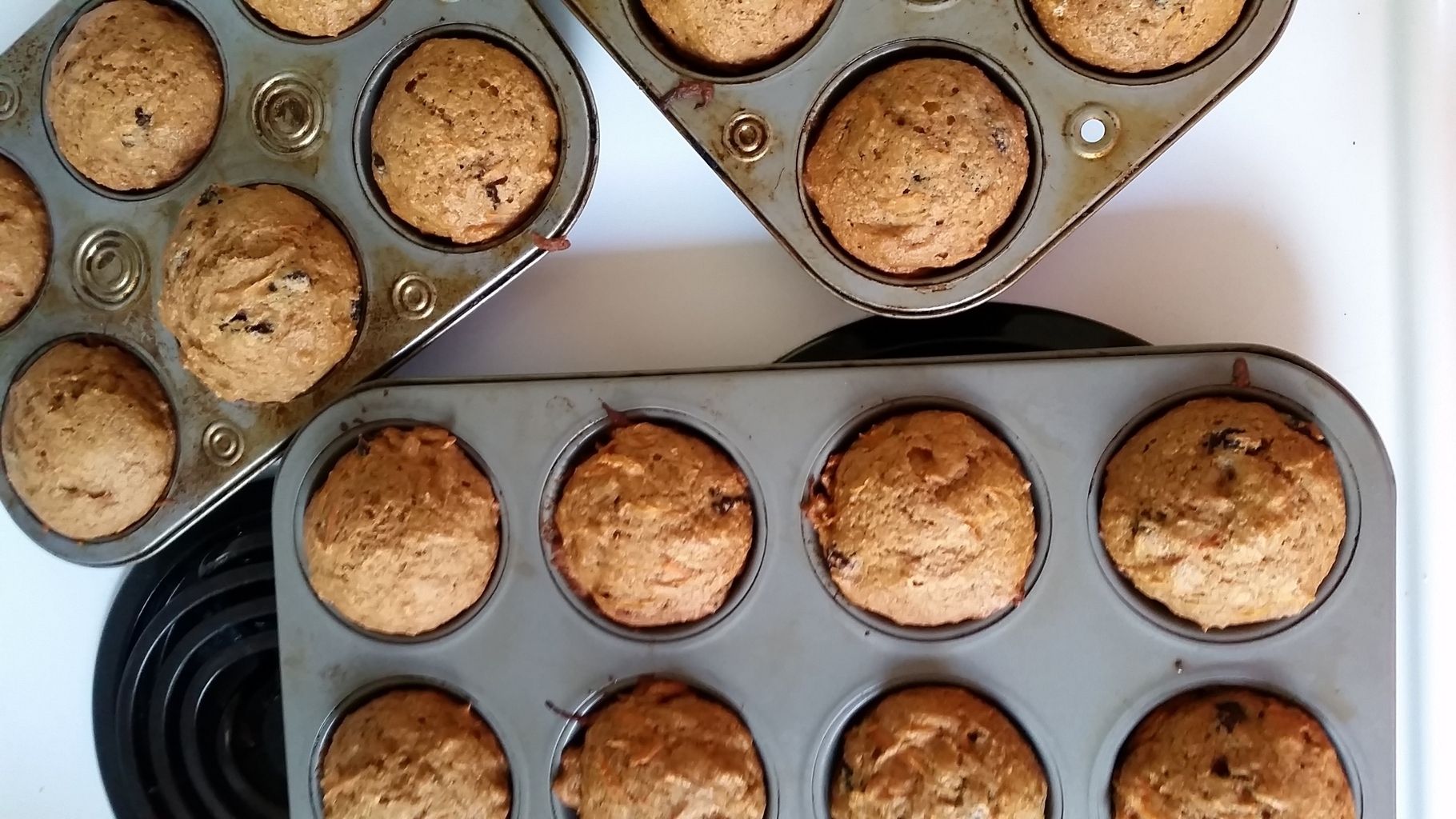 When I make other baked goods, such as muffins or bread, I almost always double the recipe and send part of it her way. Doubling a recipe takes no extra effort on my part (save for a little math) but means a lot to my mother-in-law who is busy and doesn't always have the time to cook.
This week, as I was home with Si, it was the last item on that list – muffins. I made Carrot-Craisin Muffins on Tuesday, modifying
this recipe
based on my pantry, and a Caramel Delight muffin on Wednesday, based on my intense craving for Girl Scout cookies.
The chocolate based muffins have shredded coconut and sea salt caramel chips for a touch of decadence but whole wheat flour, flax and applesauce improve the nutritional profile. They are perfect with a travel mug of hot coffee in the morning for a quick breakfast or for an after dinner treat with, well, a cup of hot coffee. Just decaf in the evening :)
The following makes 24 muffins – 12 for you and 12 to share.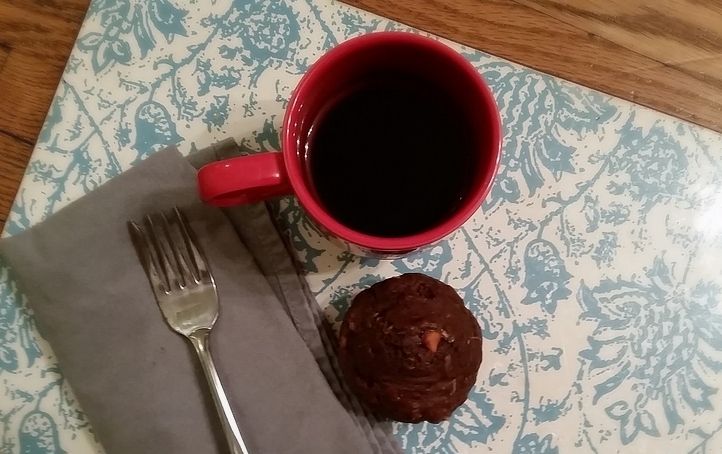 Caramel Delight Muffins
2 tablespoons ground flax seed
6 tablespoons water
2 cups whole wheat flour
1 cup all purpose flour
1 cup Dutch processed unsweetened cocoa powder
4 teaspoons baking powder
1 teaspoon salt
2/3 cup sugar
2 cups nonfat milk of choice
1/2 cup unsweetened applesauce
1 teaspoon vanilla
1 cup sea salt caramel chips
1 cup unsweetened shredded coconut
Preheat the oven to 375 degrees.
In a small bowl, combine ground flax and water; set aside for 15 minutes. Using non-stick spray, coat the wells of two muffin tins.
In a large bowl, whisk together flours, cocoa powder, baking powder, salt and sugar. Combine milk, applesauce and vanilla with flax "eggs." Fold wet ingredients into dry until just combined. Add caramel chips and shredded coconut, folding so that the add-ins are evenly distributed.
Add 1/4 cup batter to each muffin well. Bake for 15 minutes or until a skewer comes out clean. Allow to cool. Store in an air-tight container or freeze in plastic zip bags.