People love to wax on about Whole Foods and Trader Joe's but do you want to know what store I love?
Menards. Mother effing Menards.
For the unfamiliar, Menards is a home improvement store at its core but, in reality, it's so much more. After all, where else can you buy hydraulic cement, Asiatic lilies, Ball jars and toothpaste?
Wet and wild
The hydraulic cement was, hands down, the least favorite thing to purchase. We are having an unusually wet start to summer with inches of raining falling in a single day. It was a near miracle that my friends and I found a dry window to run on Saturday.
3 miles at sunrise
Not only has the rain wreaked havoc on our outdoor activities but our basement. We live in an old house (built in 1935) and like many in this area, rich with clay soil, we have problems with water. The amount and ferocity of the rain showers we have had is only highlighting the problem. Mark has been busy working to do some damage control, using the hydraulic cement to patch problem areas and sealing it with a special paint.
In full bloom
One of the things that we've also done to help the basement is fill in and improve our landscaping. It has been no easy job as the previous owner had created six flower beds in the front yard and was quite fond of ivy and vinca. We've had to dig and pull, pull and dig to get up the invasive ground cover so we could replant.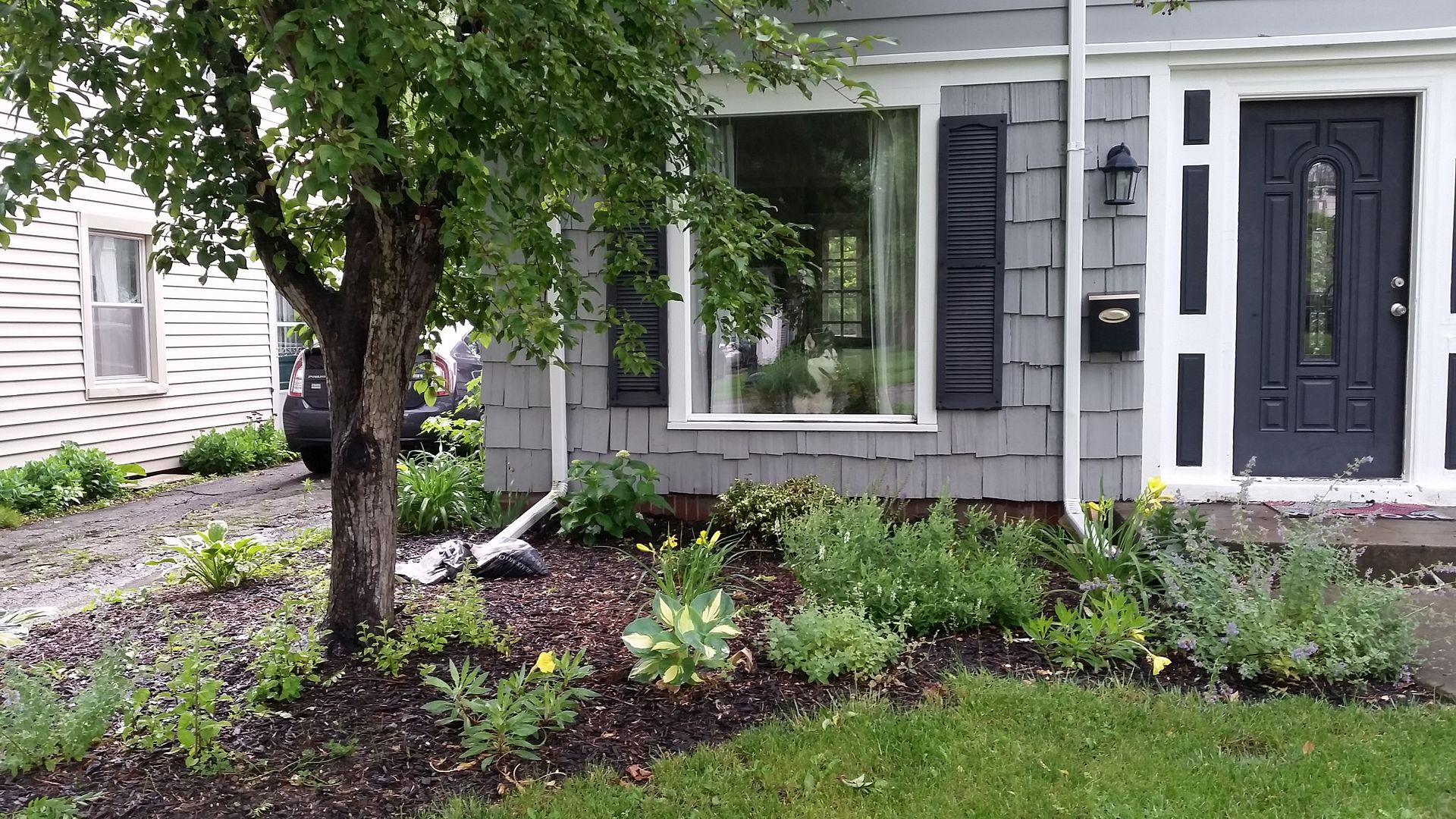 Denali for the photobomb
My mother-in-law gets most of the credit for the improvements we've made, as she's helped plan and plant the areas. We've added a lot of hostas, salvia and daylilies but are now looking for some plants to add more color and dimension.
Sort of like the Asiatic lilies I found on clearance for $1! I grabbed six and will figure out where to put them soon. Funny enough, before I went to Menards on Sunday, I told Mark that I was going to spend $100 on plants – an easy task for me. I think he was scared that I was serious so he was happy that I capped it at $6.
Screwed
One of the hardest parts of going back to work has been streamlining my mornings so I'm not rushing to get everything together. And by everything I mean: my pump, pump parts, reading material, lunch, snacks, change of clothes if I'm teaching, beverages, snacks.
It's helped to get my lunch together the night before and, for the most part, I've been going with leftovers. My friend has really been into the jar salads that you can make on Sunday and eat for the week. I had been avoiding them because, well, they were too trendy but I finally gave in and bought the jars.
$9.99 for a dozen wide-mouth quart-size Ball jars ...
save big money at Menards
... ha.
Thanks to Pinterest, I found a few recipes that sounded interesting. Wait. Can you actually call them recipes? It's mostly throw some crap in a jar in the right order, isn't it?
Anyway. I found some I might like – a Southwest style salad, Cobb, Greek – but I decided to go with an Asian Noodle for the first go around.
I was able to get them prepped while I made dinner Sunday, and it was a relief to have lunches ready to grab and go. I had one Monday, and it was good. The noodles sort of clumped together but otherwise it was just like I made it on Sunday. The only thing I'd do differently is sub the iceberg (what we had) for spinach and add some peanuts and chicken. Because peanuts are good and salty and chicken for protein.
I'm curious as to whether the salads will lose their appeal but I figure I should a) get a few weeks out of the idea; b) I can always use canning jars; and c) the price beats my deli per-pound favorite.