I was going bananas this morning – literally and figuratively.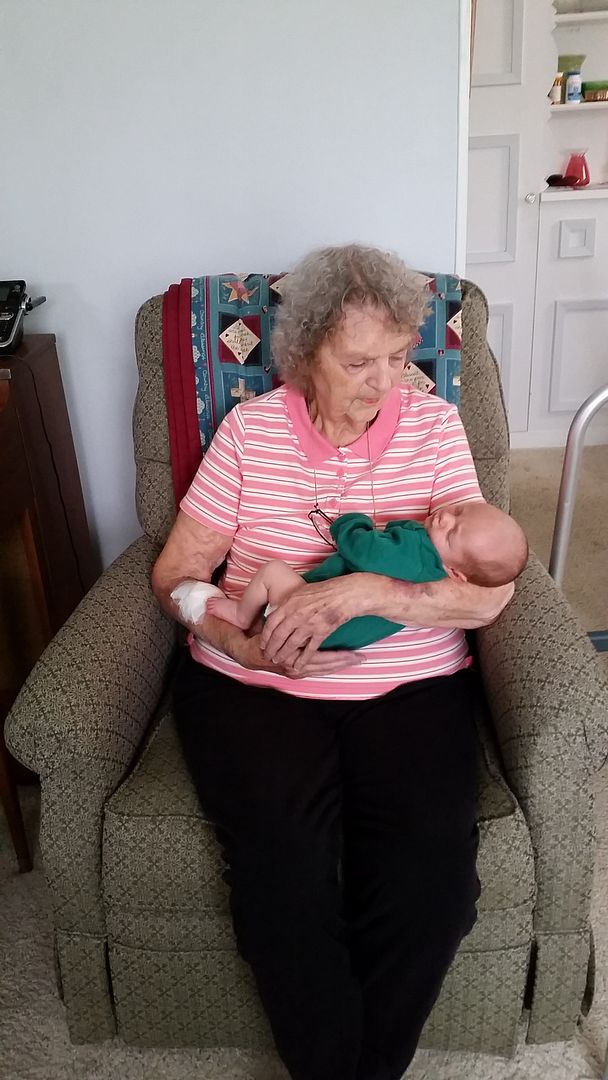 Silas and my grandma
Fresh off a long weekend to Cincinnati, where I exhibited a ridiculous amount of bravery (or stupidity) by taking both boys by myself to visit my grandma, I was tired and lacking in patience. I nearly lost it when Miles shed a tear, or several, as he declared that he was hungry. At 3, he considers any rumble in his stomach the end of the world.
It was evident that we both needed sleep – well, more of it – and food.
I left Silas, who was squirming in the pack and play, and got to work on breakfast. There was a bunch of bananas that had seen better days and a fresh bag of Bob's Red Mill ground flax, which I had bought for a lactation cookie recipe. The first – and only – thing I could think of was pancakes. Banana Flax Pancakes.
I went to work with my best friend Google but didn't net much luck in finding the perfect recipe. I wanted something that Mark and Miles would eat, which meant I had to steer clear of paleo versions that didn't include flour. I also thought it would be nice to include ground oats, as they can boost milk supply. And I didn't have any butter – so no butter.
When I heard scream and then a wail (Miles and Silas, respectively), I decided to combine the best of the mediocre and cross my fingers.
And it worked.
The pancakes were sweet and nutty but not obviously healthy. Mark and Miles both gobbled them up, commenting as they ate about how good they were. If it's any indication, it was the first breakfast in at least a week that I didn't have to fight Miles to eat.
This recipe serves four but I would consider doubling it and throwing some in the freezer. You know for the days when you wake up late or there's no one to wrangle the kids.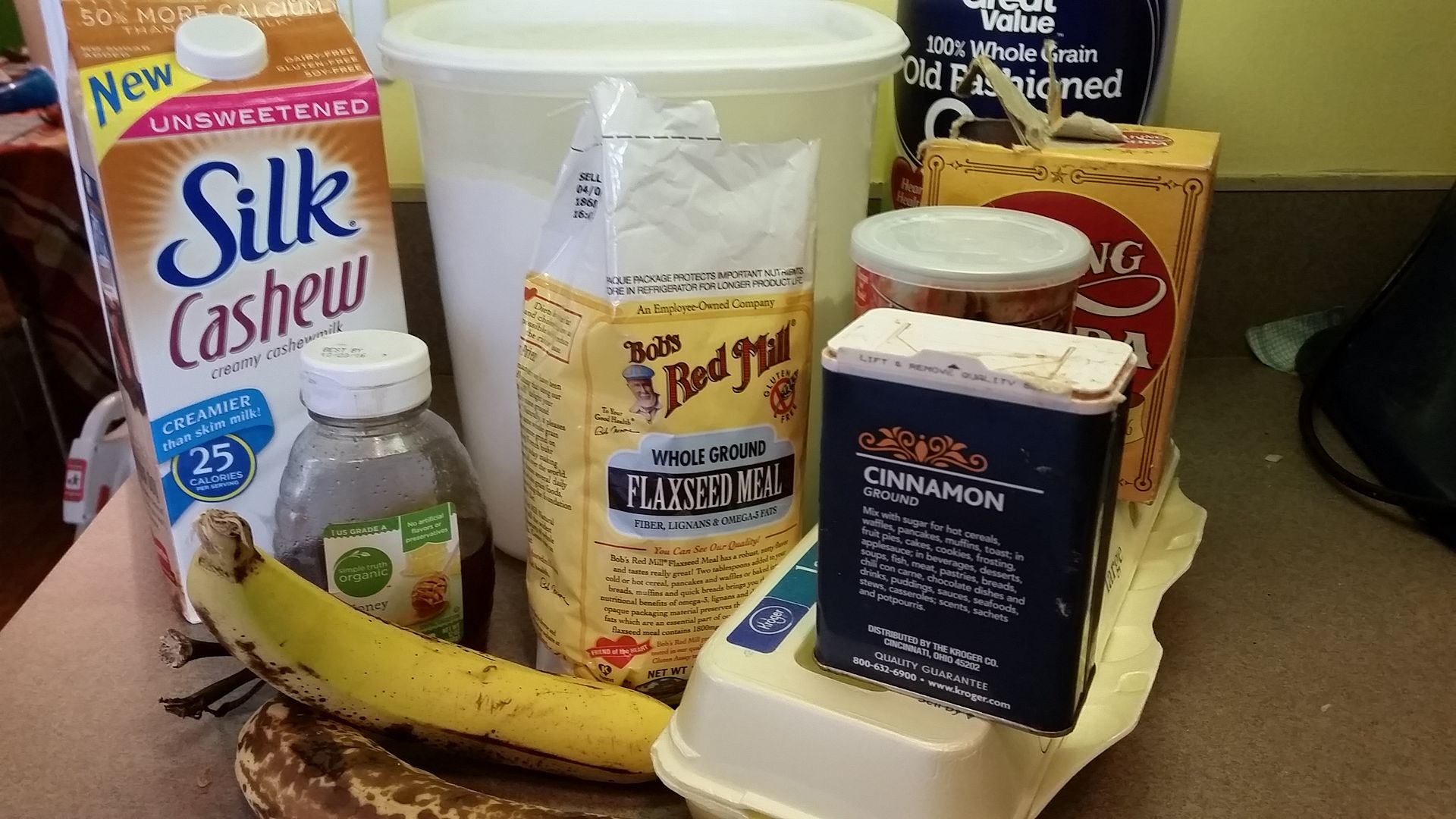 Banana Flax Pancakes
2 eggs (I used one chicken egg and 1 flax egg)
2 ripe bananas, mashed
2 tablespoons honey
1½ cups milk of choice (I used Silk unsweetened cashew milk)
1 cup all purpose flour
1 to 1½ cups ground oats
2 tablespoons ground flax
2 teaspoons cinnamon
1½ teaspoons baking powder
1½ teaspoons baking soda
Pinch of salt
Preheat skillet or griddle over medium to medium high heat.
In a large bowl, whisk eggs until light and fluffy. Mix is mashed bananas and honey. Add in milk.
In a separate bowl, whisk together flour, ground oats, ground flax, cinnamon, baking powder, baking soda and salt. Slowly incorporate the flour mixture into egg mixture, stirring gently to combine. Be mindful not to overmix.
Pour batter, about ¼ cup per pancake, onto hot skillet. When the pancakes start to bubble on the top and edges are starting to crisp, flip them over. Cook for another 2 minutes until cooked through.
Disclosure: I did receive a coupon for the Silk cashew milk via BzzAgent but the free product had nothing to do with this post or my desire for pancakes. I just had the milk on hand thanks to the coupon and used it.