People like to say two wrongs don't make a right.
But
, if you multiply two negative numbers, you get a positive and if you totally slack on two dishes, you get one beast of a lunch.
In the best sense of the word. Obviously.
On Saturday, we were set to go to a birthday party for my friend's twins, who turned 2 last week, and I told H that I would bring buffalo chicken dip. I picked up all of the supplies during my weekly Aldi trip and then headed to Walmart to grab a birthday gift and chickpeas for the
Mediterranean Quinoa with Caramelized Onions
I had on this week's menu.
I exited the store at 2:30 and realized something: I had an hour. An hour to drive home, put away groceries, change Miles' clothes for the third time that day, feed him a snack and make the dip. Yeah. I do not live on Planet Mom of the Year and found myself texting H at 2:32. She had a choice: I could be on time or she could have dip. She chose me.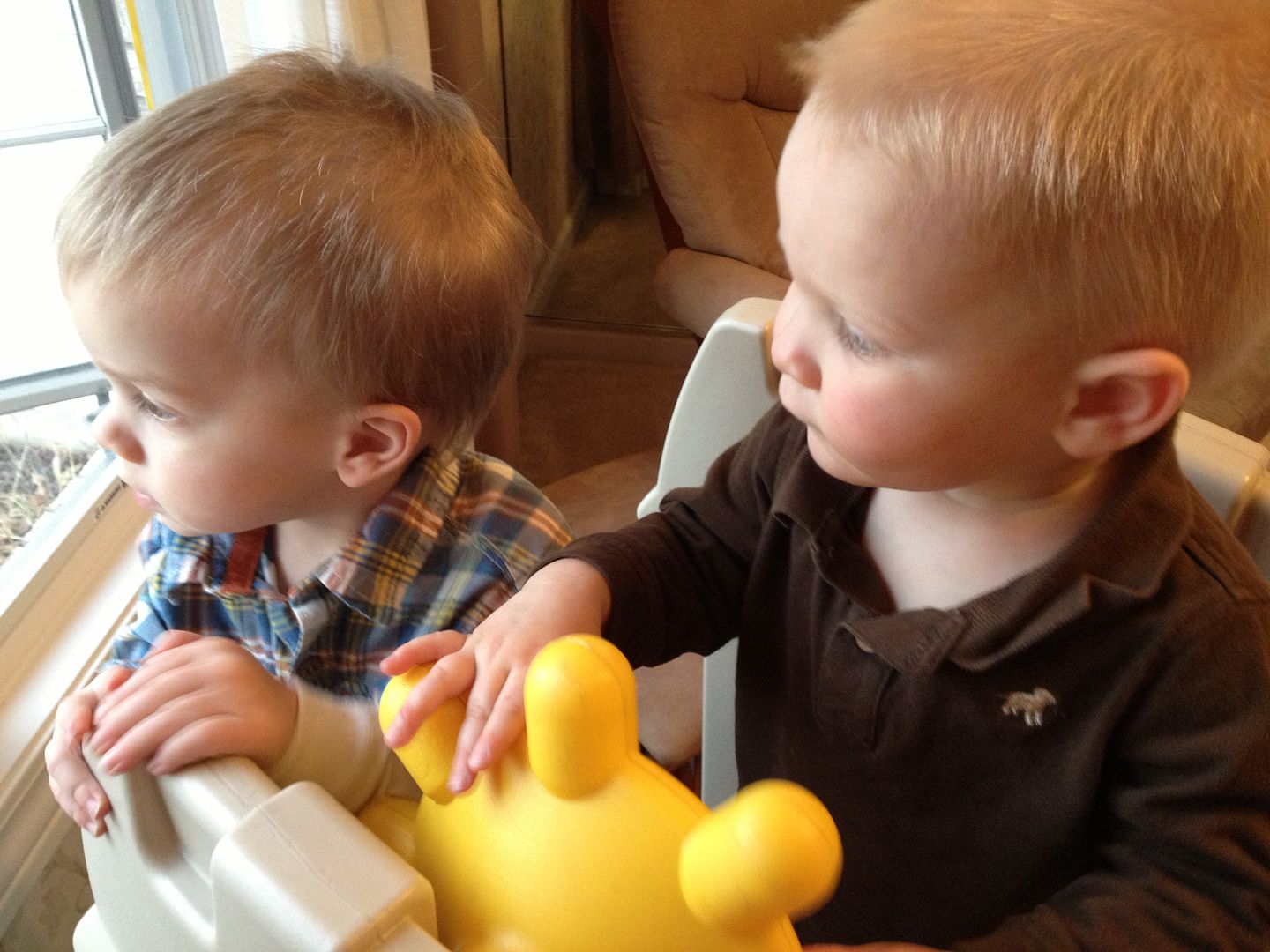 Talk about a sign of relief. We went to the party on time, maximizing the Miles' time on the Good Ship Lollipop and ate cake - leaving me with all the supplies for the dip and nowhere to serve it.
But alas. There was a second misguided recipe in this equation. The Mediterranean Quinoa I planned to make sounded delicious, and I was excited to get the dish going this morning while Miles slept. What didn't excite me was the cooking time - more than an hour. Again, I do not live on Planet Mom of the Year and I knew I couldn't finish the recipe before Miles woke up nor could I juggle a baby, a pan and my non-caffeinated self.
And thus Buffalo Chickpea Quinoa was born. At 6 a.m. On a Tuesday. Without coffee. A January miracle if I ever heard of one.
I'll admit that I was initially skeptical of my creation, especially as I haven't cooked with quinoa often, I sometimes don't like chickpeas and I was basically just throwing stuff from my fridge/pantry into a pan. Definitely an equation for disaster. Thankfully, it added up to be a creamy, flavorful and satisfying dish - especially when served with the proper accouterments of celery and carrot sticks.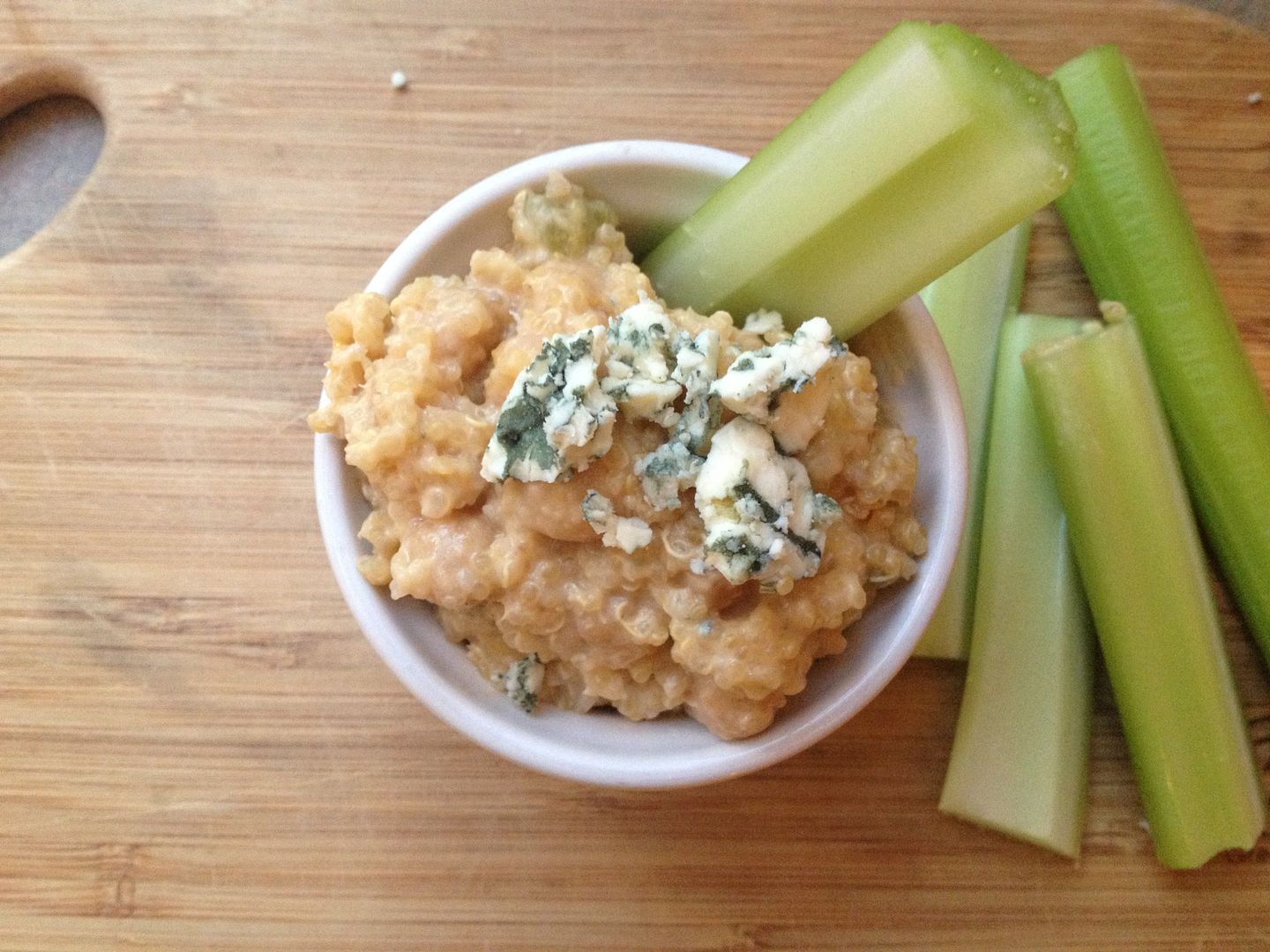 Of course, it might have been nicer with a beer and a group of friends rather than water and a coffee-stained desk but a girl can only get so much. Or so I've heard.
Buffalo Chickpea Quinoa
1 teaspoon canola oil
1 medium onion, diced
1 clove garlic, minced
1 stalk celery, chopped
2 cups vegetable broth
1 cup quinoa, rinsed
2 tablespoons wing sauce
4 wedges Laughing Cow Light Blue Cheese
Salt and pepper, to taste
In a medium saucepan, heat oil over medium heat. Add onion, garlic and celery, stirring occasionally; cook for 3 to 5 minutes or until onion is translucent and the mixture is fragrant. Pour in broth and bring to boil. Add quinoa; cover, lower heat and cook for 15 to 20 minutes, or until broth is mostly absorbed. Remove lid. Stir in wing sauce and Laughing Cow wedges, until creamy and combined. Add salt and pepper to taste. Garnish with crumbled blue cheese and celery sticks. Makes 4 generous 1-cup servings.