When I registered for the Indianapolis Monumental Marathon on Jan. 1, running marathon was just an idea. A seemingly good one but, nonetheless, still just a thought. I could tell people that I was running a marathon in 2016 without the actual pressure of doing the work.
Well, my friends, that has changed.
On July 4, 18 weeks out from M-Day, the work began ... with an easy 3 miles with strides. Oh, how I love the first week of a training plan.
For this cycle, I am did something different – I paid for a training plan. I didn't hire a coach; rather, I signed up for the
Train Like A Mother Club
and its fall marathon challenge. I have been lucky enough to follow along with my BRF and the TLAM half plan and my BFF and the 5K plan. Both schedules have helped me get back my speed (and then some) after having Si, and I credit the TLAM plan for my PR at the Carmel half. Not only did I feel like I owed the mother runners some of my money but I felt confident that the workouts would be challenging yet manageable.
And I was right. There's one to two quality workouts a week, and I have the option to hit 20 miles twice (or just once if I am feeling not so into it). I will max out around 40 miles during weeks 14-15. The challenging aspect will be race pace miles during long runs and midweek long runs that buildup from easy pace to race pace to tempo and then climb down.
I'm not going to lie – when I put the plan into a larger spreadsheet, which I printed out and put on the fridge for Mark, I got scared. It's a lot. But, one day, one workout at a time.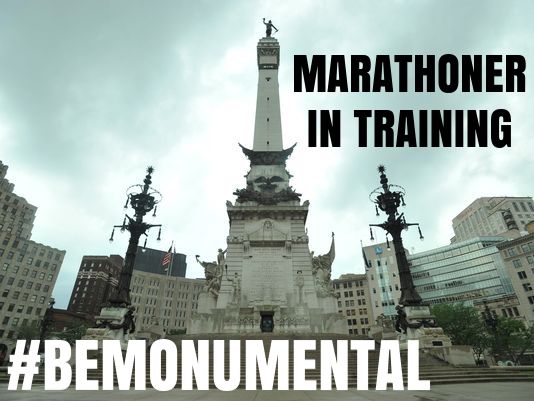 Here's how my first week shook out:
monday
distance | 3 miles
time | 28:25
pace | 9:28
notes | hotel treadmill, humid and icky
wednesday
distance | 5.1 miles
time | 45:39
pace | 8:56
notes | tempo
thursday
distance | 4.1 miles
time | 37:00
pace | 9:00
notes | strides
sunday
distance | 10 miles
time | 1:35:15
pace | 9:30
notes | seriously consistent splits {for me} – 9:43, 9:29, 9:33, 9:25, 9:32, 9:25, 9:19, 9:31, 9:28, 9:39