The plan was in place. We would meet at 6:30 a.m. and run a 6-mile loop. At 7:30, we'd return (hopefully) to our cars and meet the rest of the clan for 9 more miles. A total of 15 miles for Joe and me, the longest run of this training cycle and a cutback week for him (he's training for a 50-miler).
It would going to be cold and dark, though, he warned. We would definitely need tights and headlamps.
Well, he would need a headlamp. I had something potentially better –
RunLites
.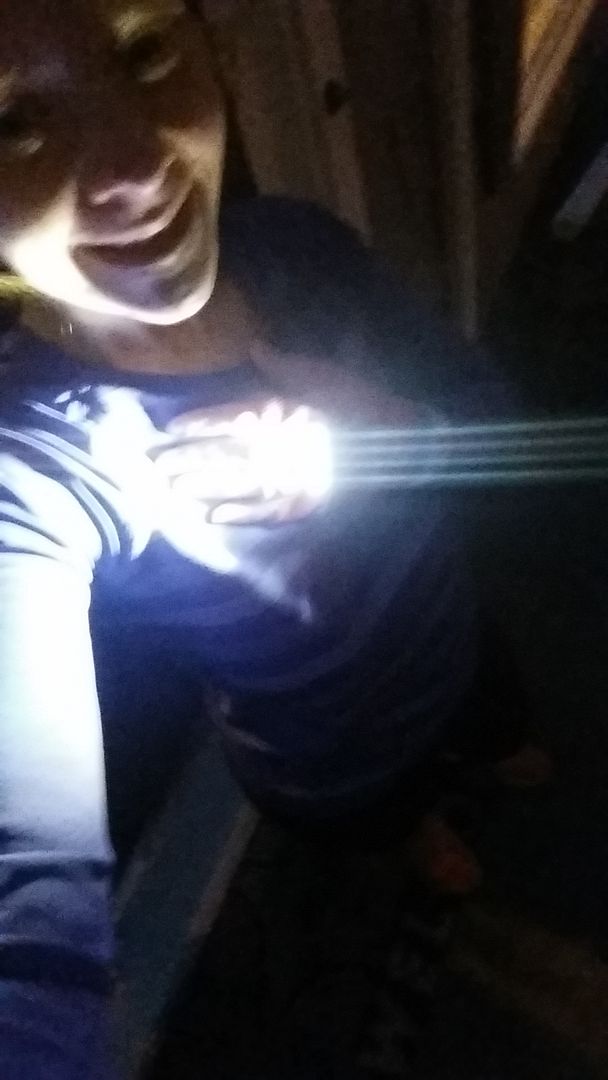 RunLites are gloves with "built-in" lights for runners, cyclists and general outdoor enthusiasts. Why the quotes around "built-in"? Well, the lights are in pockets on the top of the glove and can be flipped out and removed for washing or charging purposes.
Now, back to the gloves. RunLites have two brightness settings (the max 40 lumens per glove), have a battery life of 48 hours, are made of a breathable fabric and feature a palm pocket with safety strap. They are available in full and half length, the latter of which I chose.
So, basically, they look like a cycling glove with small bungee cords on the bottom for storing a license/ID, gels or car keys.
Now, my Saturday-morning run wasn't the first go-round with the RunLites. I've actually worn them for about a month. I've taken them on early long runs and when I met my BRF in the morning. It's still too cold for me to take my bike out so that was a no go. And, I also made the mistake of wearing them at home to look for something under the couch (because ... yeah), and it caused some serious issues with an inquisitive child.
The Saturday run also won't be the last time I run with them, either. But, they won't necessarily replace other illumination products I have.
Here's the rundown:
Pros
• The gloves' lights are charged via a USB cord. There's no need to hunt down batteries or steal them from your kids' toys.
• The battery life is legit. I have only had to charge the gloves once since using them.
• The gloves are comfortable, and I have not had any experience with them chafing nor with them become ridiculously wet.
• The lights are fairly bright, and I love being able to wave them toward an oncoming car to let them know I am approaching.
• The thumb of the glove is terry cloth – perfect for wiping your nose.
• At $34.99 a pair for the half-glove, RunLites are comparable in price to other illumination products.
Cons
• The gloves are charged via a USB cord, and the gloves only come with one. One cord, two gloves. It requires some planning and, if you forget to charge them, you are a SOL when you are headed out the door.
• I have yet to figure out how to tell whether the gloves are fully charged.
• KnuckleLights are brighter by 5 lumens, and they just seem to offer more illumination. The KnuckleLights also have a strobe setting, and the RunLites do not have. While the strobe setting isn't always great for seeing twigs on the path, it is great for safety.
• The gloves are to see not to be seen and do not replace other night running gear, such as reflective vests/clothing. It would be nice to have a product that served multiple functions rather than adding one more item to the list of gear to grab – especially when you're coffee hasn't kicked in and the sun hasn't risen.
• The half gloves work perfectly for the fall and spring when it's chilly but not cold. However, I can't imagine wearing them when it's hot outside. Then again, I don't like wearing KunckleLights when it's 70 degrees and 90 percent humidity at 5 a.m.
Want to light up the night? RunLites is offering one Healthy Strides reader a pair of her own. Enter using the widget below.
a Rafflecopter giveaway