Give me a snow day or give me death!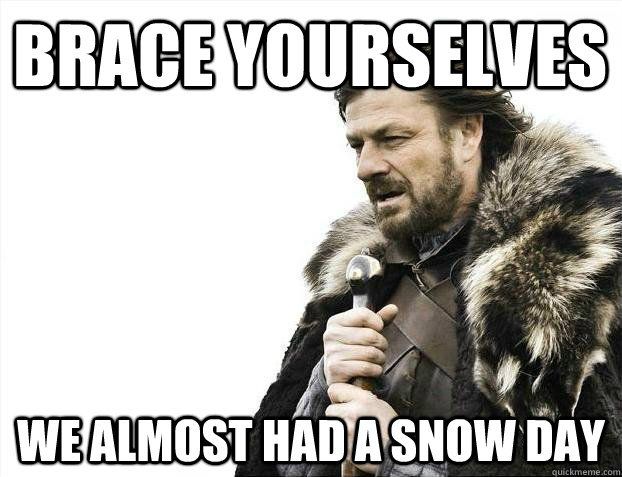 Or you can give me a two-hour delay and ruin my life.
Dramatic much? I think ... maybe.
Anyway ...
My training for the Carmel half marathon began this week. Sure, it's a bit early for an April 16 race, especially as I have a solid base of 8-mile long runs. However, I'm following a "Train Like A Mother" plan, and they tend to be a bit longer. It appealed to me for myriad reasons but mostly it gave me the chance to cut the crap and focus.
And focus I wanted to.
I was ready. I was willing. I had a plan for the plan. Tuesday morning, I would drop off the boys and head to the Y. (The weather was beyond frigid, and I have yet to put on my big girl winter running tights.) I would run 5 miles total with 1.5 miles at tempo. I'm still trying to nail down what my paces should be but I was hoping for 8:35.
I rehearsed the run in my head. I repeated self affirmations that I was able to hit those numbers and even if I couldn't on that day, I could and have on others. The run wouldn't determine the training cycle.
I'm really hoping the latter is true because the run didn't happen. Those frigid temperatures prompted a two-hour school delay and thus eating into my golden hour of running.
When I would have been through the warm-up, I was packing up the car. When I would have been bumping up the pace, I was nursing Si at daycare. When I would have been showering at the Y, I was waiting in the drop-off line. (If you have ever waited in a drop-off line with the hordes of rabid mini-van driving moms, you know I needed the run at this point.)
And, maybe the worst part, the regular door monitors weren't even there so they didn't see me dressed in real clothes! Gah!
Oh well.
It all worked out. Sort of. I ran a quick 3 miles after my Tuesday night class, aiming for that tempo pace. I didn't feel satisfied, stopping to fidget with my hair and tank, so I might try it later in the week. Or I might not.
It will be what it will be what it will be. Ya know? And until then, dear weather gods, I'd prefer closures. The running options are much better under those circumstances ;)