Once upon a time, before I could run my first mile ... before I even believed I could run that first mile, there was Mark. He was the one who didn't just believe I could do it - he was the one who
knew
I could do it.
And so it only seemed fitting to celebrate Father's Day and all that he has given me and Miles by going out for a solo run.
OK. Really, I just needed to get in one last long run before ZOOMA Napa Valley but Mark's contribution to my running cannot be understated. He has been a constant source of inspiration and motivation, and he's always given me the push to go outside the limits.
So a few days late and a couple miles short, I'd like to share the things Mark has taught me about running.
There's no distance requirement to qualify as a runner
. When Mark and I were first married, he would go on 3-mile runs on the same route nearly every day. He would run 1.5 miles down the street and the run 1.5 miles back. I thought it was equally amazing and boring that he did this and was most definitely a runner. I never thought that he needed to run more often, harder or farther. I know I can get caught up in meeting mileage goals that certain distances don't seem like enough but going out and being active is enough.
Take recovery seriously
. I put Mark on a lifting plan in the winter (per his request), and it cut into the time he could devote to cardio. To make the most of those sessions, I programmed HIIT workouts on the treadmill. He would warm up for a mile and then do 1-minute intervals at a fast pace and then recover for 1 minute. Not too long ago, he shared that he did the fast interval at 9.0 (6:40 pace) and his recovery speed was 5.0 (12-minute pace). I could not grasp why he would want to go so slow, relatively, to recover. I often fret about my overall pace, even when doing intervals, that I do not give myself the rest I need during workouts. His example has shown me that it's not only OK to
rest
during the recovery interval but you will perform better if you do.
Ease into it
. The first mile sucks. It always will. Deal with it and find your groove.
Run more, race less
. Mark runs to run. Sometimes he runs fast, sometimes he runs a little less fast. He does what he feels like and only if he feels good. He doesn't run because he's training for something. While some might think you need a goal to keep running, Mark finds that the satisfaction in movement is enough - as it
should
be. For him, the race isn't the goal, the prize - it's the fitness.
Wear sunglasses
. It keeps the bugs out of your eyes.
Yes you can
. Mark has a good sense of self and feels quite confident in his athletic abilities. Sometimes, when I'm particularly cranky, I think it borders on arrogance but it's mostly because I'm jealous. I wish I could believe in myself the way he does. Not only would it take out some of the anxiety but it also sets us up for success. Repeat after him:
I think I can. I know I can. Yes. I. Did.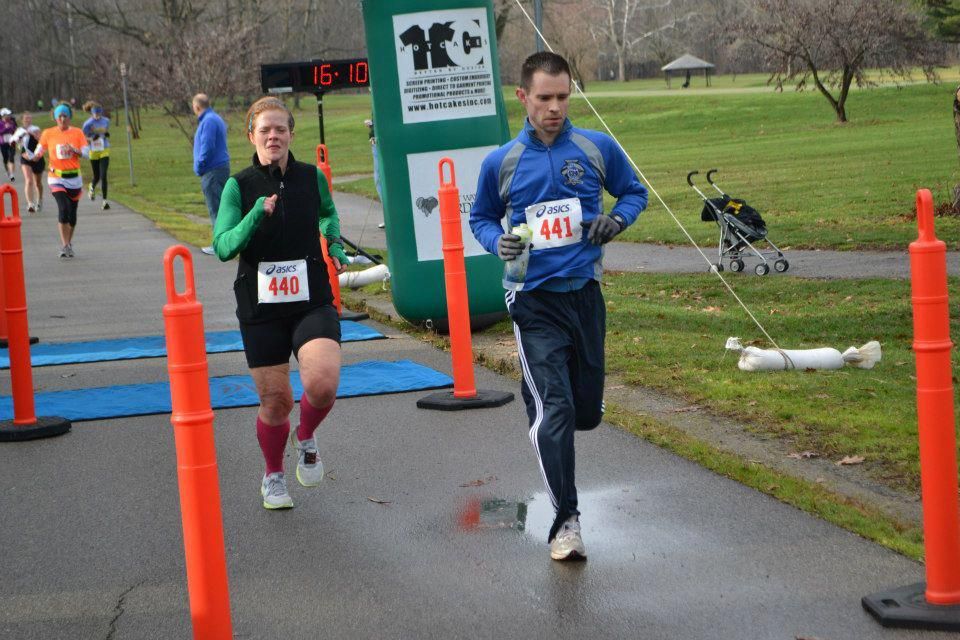 The week, in training:

Monday, June 9
REST

Tuesday, June 10
RUN
| 4 miles
Time: 36:52 Pace: 9:13
Sore legs + Stroller = Mediocre run. I just couldn't find my groove but it was a beautiful morning and the toddler was well behaved. I also had the dog with me, and he wasn't too happy to be tackling 4 miles.
Wednesday, June 11
RUN
| 5.71 miles
Time: 52:10 Pace: 9:08
We were really strong the first half, perhaps a bit too strong, but I think I'm over fretting about positive splits. Plus, it was HILLY the second half. We went on our alternate route, which was a nice change of scenery.
Thursday, June 5
RUN
| 6.4 miles
Time: 58:48 Pace: 9:11
This run was just delicious. I met Tami for the second day in a row, and we made an an effort to go out a bit slower. We eased into a comfortable pace and felt much better than the day before.

CROSS TRAINING
| Y boot camp
Stations with boxing intervals
Friday, June 13
CROSS TRAINING
| 10.9-mile bike ride
A good old fashioned family ride.
Saturday, June 14
RUN
| Hare & Hounds 5K
Time: 27:14 Pace: 8:46
Sunday, June 15
RUN
| 12.25 miles
Time: 1:52:48 Pace: 9:12
Short version: Best long run in some time.
Longer version: I was on my own for this one since I had an old child care situation. I seized the chance to control the pace and made it my goal to slow it down. The early miles felt nice so I decided to do the first 4 as LSD, the next 4 at RP and then slow it down for final 4. I did pretty well with it. Mid-4 miles were: 9:10, 9:00, 9:03, 8:55. I stopped home at 8.5 to go to the bathroom, ditch my hydration pack and shirt and grab a new hat. Took a mile to find my pace but finished the 12th mile strong with sub-9 pace.