The 20-miler, it is done.
I'm not sure there are ever sweeter words said during marathon training (emphasis on training) than having the longest long run in the books. The only thing that could put a sugar-coating on it is to say that the 20-miler is done and done well.
While I wouldn't go all large pumpkin milkshake on it, I am happy with how the run went. I took off Friday to get it in stress free as we were traveling for a wedding, and it allowed me to start a bit later (9 a.m.) and have my choice of routes. I had intended to preview the course but got lazy, instead choosing to start from my local park. It was a smart move, as it allowed me to do two out-and-backs and stop at my car around mile 12 to switch out Nathan flasks and replenish fuel.
The day was perfect. It was in the high 40s, sunny and crisp. The trees were afire with fall color and leaves crunched underneath my feet. There were a few folks out on the trail but, for the most part, it was just me. I tried to keep it slow and steady - the whole bank energy, not time thing - but my splits were consistently between 9:34 and 9:37. It's about 25 seconds per mile faster than my last 20 (which was 17.5 + 2.5) and about 30 seconds faster than where I was at last year.
Anyway, enough with numbers. I felt really good the first 12, had a mental struggle starting the second out and back but came back through 16. Mile 18 was hard, and I chose to walk up to steep inclines on the trail. I figured it was better to keep moving than to stop the watch and stand at the bottom trying to summon the energy to run up. Being on time for a lunch date kept me moving through the end. Success!
During said lunch date, my friend asked me how I eat when I run 20 miles. And then I let her in a secret - I eat all the food, in the most balanced way possible.
Mid-run. I had grand plans for fueling this cycle but abandoned them pretty quickly. Rather than taking gels every 4 miles as stated, it's been closer to every 6. With both half marathons, I took just one gel half way through. I tried something different on Friday, though. I kept Salted Caramel Gu at every 6 but added some a chew at mile 3. I replaced one gel half-way through with half a Picky Bar to give myself a sugar break. Such a good idea.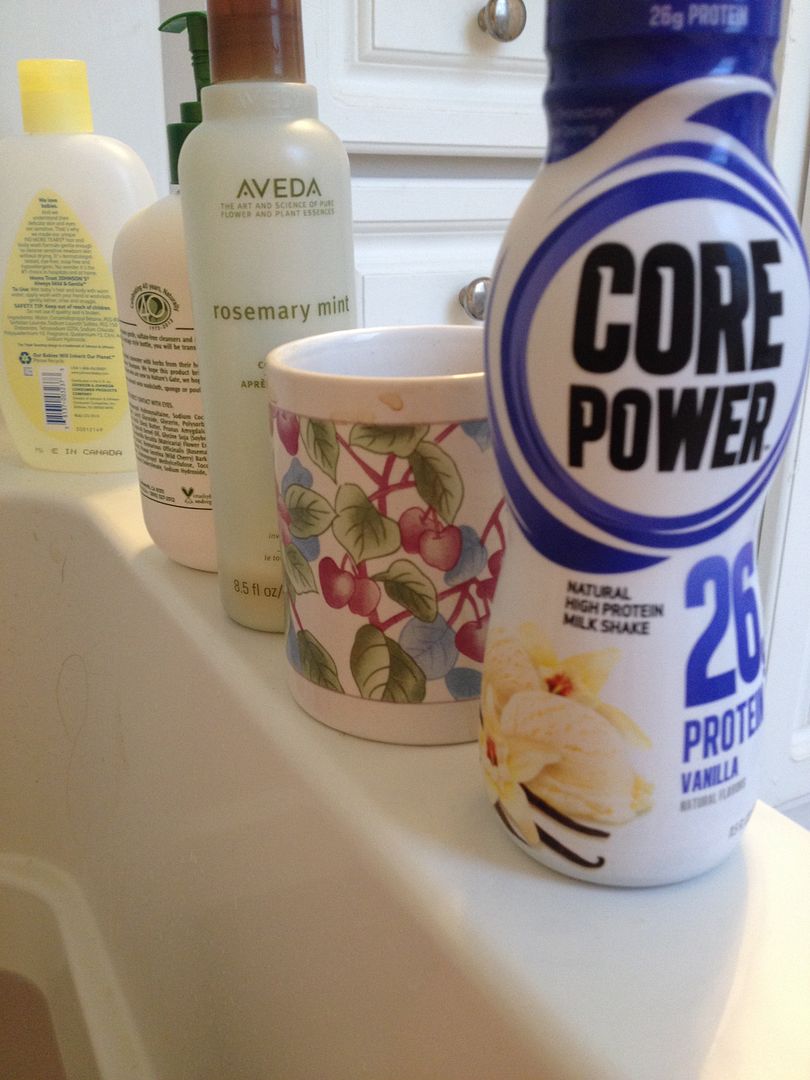 Recovery. I have always been bad at this as I never really feel like eating right away and don't keep chocolate milk on hand. At the Fort4Fitness expo, there were reps from Core Power offering samples and I shamelessly pulled the blogger card seeking samples. They were kind enough to give me a bottle of every flavor to try, and I've been chugging them post long run since. I don't think I've met a flavor that I didn't like, even the light versions, but I love the banana. They are a direct competitor of Muscle Milk but unlike the popular brand, they actually have milk and a recognizable list of ingredients.
Indulgence. My friend was specifically interested in whether I just throw caution to the wind when I burn 2,000+ calories in a day or whether I try to stay reserved. For me, it's all about select treats. French fries are almost a must, as I crave the salt, and I usually try to plan a trip to Menchie's. When it comes to fro-yo, Menchie's is by far my favorite in the area (the others are local franchises). It might be the mochi or that the flavors taste less fake but it's the best. Friday, after lunch, I drove straight there for the insane-tasting pumpkin with Cinnamon Toast Crunch (among other things). It's easy to go crazy but I was happy that I kept the bowl around 6 ounces, and the pumpkin yogurt only has 120 calories per half cup.

Now, bring on the taper! (And more pumpkin yogurt!)

The week, in training:

Monday: Rest
Tuesday: 3.14 miles + Piloxing + Ripped (taught both)
Wednesday: 6.53 miles + 3.01 miles
Thursday: Ripped (taught)
Friday: 20.28 miles
Saturday: Ripped (taught)
Sunday: 5 miles + 5-mile bike ride

Disclosure: I was provided with Core Power samples and a $20 gift card to Menchie's but all opinions and words and calories consumed are mine.