First things first. I am happy to report that after four days of feeling crappy that I am finally feeling like myself. And by feeling like myself, I mean I said yes when Mark asked me if I wanted coffee this morning and I exercised with no nausea.
Excuse the profanity but hell yeah! (OK, to be honest, when I typed the "excuse the profanity" I fully intended to use the "f" word but I chickened out.)
Anyway, a few things I had intended to share on the the blog were shoved aside by illness - probably norovirus - but I'd hate to see them disappear into the black hole of ideas.
1. I was a big ole tease last week, promoting the Old Navy Activewear I scored via Crowdtap but never sharing the duds.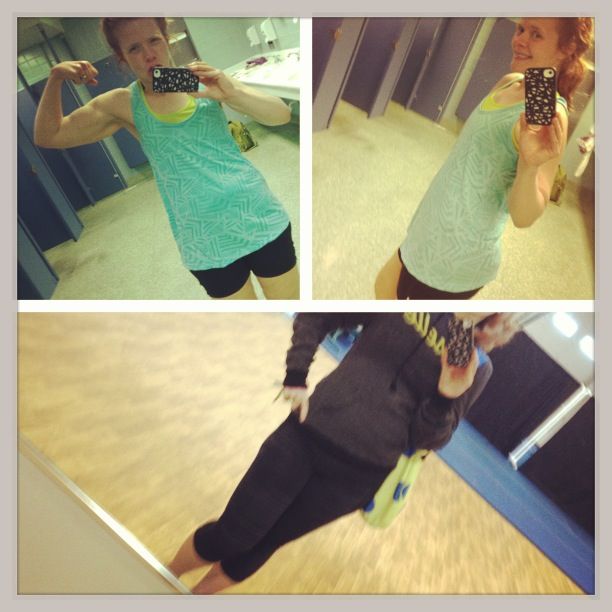 Shock of the century, I picked the printed compression capris in black and the printed knotted tank. I can't really wear them together, which is a fail on my part, but I have enough workout stuff to make do. I wore the capris for BODYPUMP on Saturday, and I have no real complaints save for the fact that I wish the internal pocket had a zipper. It's fine for cross-training, no good for running.
As for the tank, I'm in total love. I wore it on Monday for lounging/walking the zoo - which is totally active - and for a trampoline class today. Definition of fashion meets function.
2. Saturday morning, I made the somewhat questionable choice to volunteer for the Fort4Fitness Spring Cycle event. I had seen a link on Facebook that volunteers would receive a free entry to the fall race and, well, I can't say no to free. I selected the 5 to 8 a.m. shift (this is where the questionable comes in) because it would upset my/our schedule the least.
I spent much of the three hours moving barricades and fences, working with a guy in taper for his first half marathon and a master's triathlete who has competed in Kona and won a 70.3 event. The work sort of sucked (I told Mark it was my first time as a race volunteer where I felt like I was doing something) but talking to the guys was totally awesome. I learned that I should not shoot for a 70.3 in my first year of triathlons, if there is to be a first year of triathlons, and you can get a degree in heating and air conditioning.
3. Before the illness began, I did manage to squeeze in some fun. A friend of Mark's, who moved to D.C. last year to be a doctor of all things, came to visit, bringing with him dry-aged steaks - porterhouse, T-bone and sirloin. It. Was. Amazing.
I made a BLT pasta salad, using turkey bacon and yogurt ranch dressing, as well as some corn and the bachelors in the crowd brought prepared mac and cheese and craft beers. I'm not sure if they were trying to send me a message when they handed me a Hoegarden but it was tasty.
The party was also a good chance to try out some Kroger smoothie bars, which I procured using a coupon from BzzAgent. I had been in the habit of making fancy desserts but I realized that a) it takes a crapload of time; b) I spend too much money on ingredients; and c) I end up using it as an excuse to binge. But I decided to let that go, especially since the steak was the real treat.
Everyone seemed to like them, and it was a great treat to give the kids without feeling insanely guilty. The bars are 50 calories each, and there are actual chunks of fruit in them.
What's your favorite summer treat? I really like these bars - for reals - and might try to make them at home for a little more quality control.
Disclaimer: I received coupons for the Old Navy Activewear and Kroger smoothie bars via Crowdtap and BzzAgent respectively via personal participation on the marketing websites. I was not required to write about the products on the blog but in doing so, I may be eligible for future opportunities or rewards. All opinions and words are my own. Duh.