The weekend, from start to finish.
I am sick. For the first time in ... I can' tell you when the last time I was sick. What began as that irksome pressure between the eyes snowballed into one of the worst weekends of recent memory.
Good
. Mark and I had planned to celebrate Valentine's Day this weekend, making arrangements with my in-laws to keep Miles overnight. We might not have been able to execute our plans as intended but we did have a childless Saturday night and finished much of the painting we had hoped to do.
Bad
. My cold started with sinus pressure that was annoying but not debilitating so I began my Saturday as planned with BODYPUMP. It was a small class but a class nonetheless. However, with each passing track, I felt worse. I was coughing as we stretched and struggled to find energy during the bigger tracks (lunges and shoulders). I still had hope that I could do the Fanny Freezer 5K for fun but once my butt hit he couch, I knew that it would be dumb. It was the first time I didn't do a race as planned (we were planning to do day-of registration) and I missed my chance to register for this year's points race. Neither are very big deals in retrospect.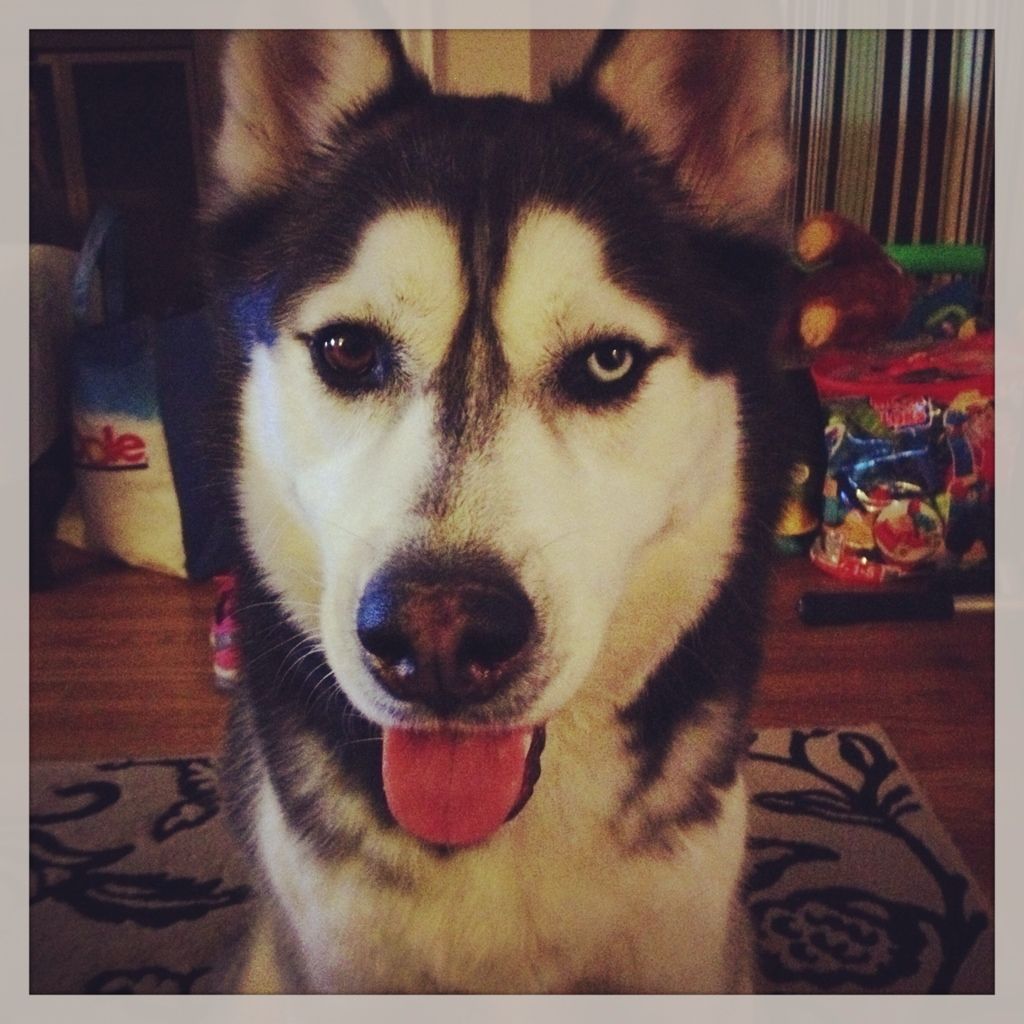 Ugly
. I was hoping that my decision to take it easier on Saturday would mean that I could still head out for a few miles on Sunday. Denali was looking especially cute and eager that morning but I had to let him down. I just had a feeling that running would be just like BODYPUMP - I'd manage but feel 100 times worse upon completion. Mark and I finished up a few things and left to pick up Miles. As we were leaving, Denali took the chance to get in his own run and darted from the front door.
Denali has gotten loose before, and his MO is to run the neighborhood for an hour, hour and a half and return home. We always try to find him and yesterday was no different. I went after him and tried to lure him with the apple I was eating. In 10 minutes, though, he had disappeared into the maze of alleys and yards that is our neighborhood. We figured - wrong or right - that we might as well go get Miles and search upon return. (My in-laws live 1.5 miles away.) When we got home, our neighbor said he saw Denali poking around and tried to lure him with treats but to no avail. A few short minutes later, another neighbor told us he had spotted Denali and I left a crying Miles in the house (Mark was showering) and went to find him. I had a cookie and collar, hoping it would be enough to nab him. I closed in and my hopes were raised as he ran toward me. Denali took one sniff of the cookie mid-gallop and ran right past me. I went in pursuit but failed. I came home and a few minutes later, I spotted Denali again. This time, Mark went after him. The situation was nearly identical. Mark had a cookie and Denali had no use for it. He wanted to run. Mark was about a half-block behind, trying to close in.
And then it happened.
Denali ran into the street and was struck by a car. The driver didn't stop. Mark quickly caught up and some nearby residents helped Mark as Denali lie on the park strip. He was alive but in obvious pain and had some cuts on his face. A neighbor stopped and drove Mark and Denali home so we could get him to the emergency vet.
Denali is a tough dog and, as it turns out, had no broken bones. The most concerning result was a small lung puncture. We were told that he would either rapidly improve - or decline - in the 24 hours that followed depending on how his body healed. It was terrifying as his breathing became labored and then slowed. Mark and I really feared that we were watching our running partner, pal and loved one die.
I knew that it wouldn't be 24 hours that would make or break us - it would be the night. I slept with Denali in the living room and at 3:30 a.m., I got a sign. I was up for a bathroom break and he was ready for one, too. He was still irritable and I gave him water and food, which he gobbled up eagerly.
We're not out of the woods yet. He's still in pain - his front left leg was injured - but he's breathing. And that's all I will ask for.